One of the things that we hold dear at the core of Yoko's business model is transparency. We want you – our reader, our client, our community – to follow along with us as we learn and evolve, as both a business and as a team.
Back in July, we shared the original vision for Sangha Teresa – Center for the Development of Human Potential on our blog and in our newsletter. With the land purchase already secured, we are now looking forward to our next steps and, with a share in ownership on the table, our goal is to find up to 100 Yogis to invest at least $50K each for a total funding of $5M.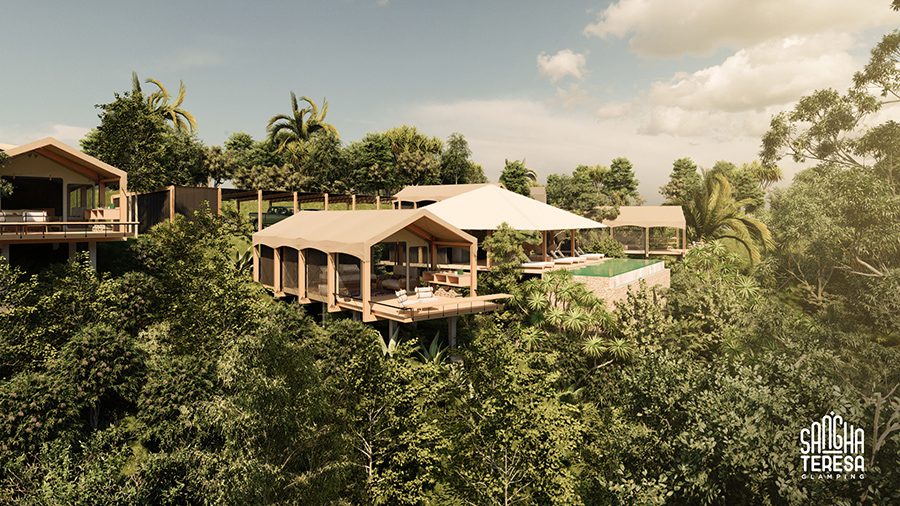 Cultivating Community in Santa Teresa
It is undeniable that we, as a species, have found ourselves at a significant crossroads. Although we have reached a peak of both industry and technology, people are more sick and more unhappy than ever before. This is because our progress has come at a great cost. By pillaging the earth and its natural resources, humankind has pushed itself to the edge of existence. Thankfully, many people are waking up to this imbalance, and starting to educate themselves and open their minds to a way that can bring us back to harmony once again.
This has created even more need for an oasis of retreat and development, especially in a setting that is so deeply connected to and respectful of Mother Nature. Sangha Teresa will fundamentally be an experiment, as it is the first of its kind. Yoko is bringing the concept and land to the table, but we are searching for collaboration.
100 Yogis
In ancient times, Yogis were individuals that, to a large degree, renounced household living in dedication to their spiritual pursuits. Like everything else, globalization has broadened the path of the yogi. Many now have families, pursue careers, and indulge mindfully in the perks of modern life. Thankfully, the core teachings of yogic philosophy can be adapted to meet our new lifestyle when one sees the world through the lens of dharma.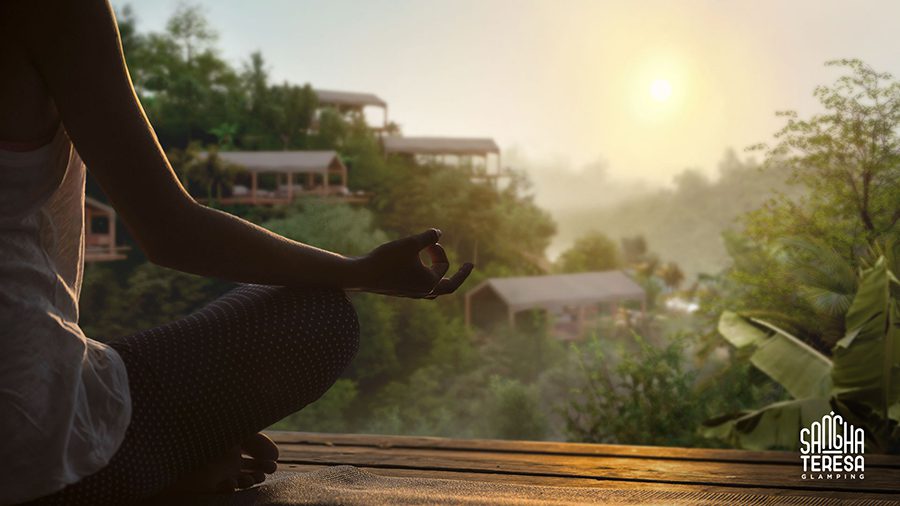 What is dharma? While it is difficult to summarize this concept briefly, dharma is universal truth and right alignment, which can be in relation to both the individual and the collective. We can basically look at any aspect of life, decision making or relationship through this lens. It will guide us to do not only what is right for ourselves, but – more importantly – to do what is right for the greatest good of all.
Many yogis, and those who yearn to pursue deeper studies and practices of that nature, are not financially wealthy. However, the truth is that, nowadays, many people who have found a yogic path were actually able to do so because they in fact do have financial security and abundance, which provided space and time for these spiritual pursuits.
Which brings us to – 100 Yogis. Almost in the style of Robin Hood, we are hoping to draw funding support from the wealthy to help bring the center to life, eventually passing the abundance of the center on to those who need it the most.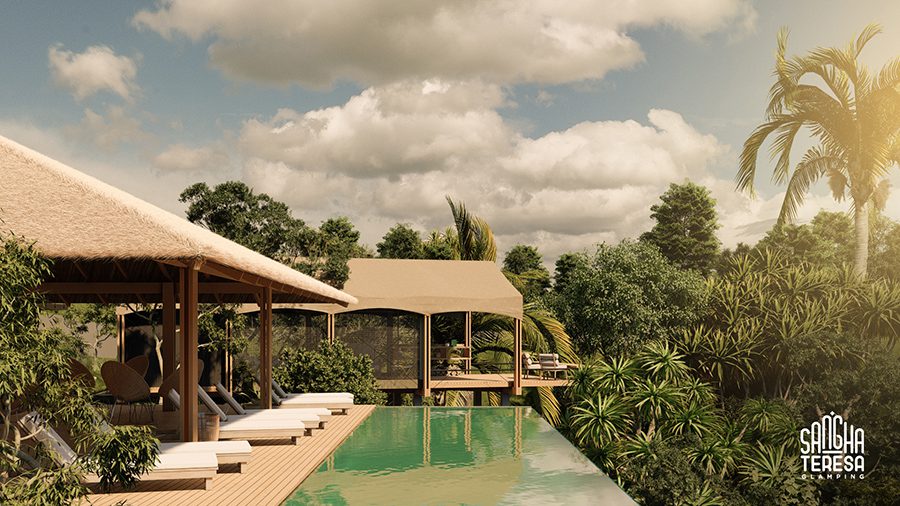 The Exchange
Are you a person with financial prosperity who is passionate about helping more people to find the gifts of yoga, health and wellness? Or, perhaps, do you have a network of wealth that surrounds you that may be interested in supporting your passion for spreading these gifts?
Our goal is to find up to 100 yogis to invest $50K, in exchange for 1% ownership of Sangha Teresa. This total investment of $5M will facilitate the center's eco-planning and construction, and will be returned to investors as soon as business is up and running.
For those who are interested in the numbers, our CFO has created a projection on the return of your investment which can be found here. The potential profit margins are extremely exciting!
In addition to the huge potential of return on this investment, we also aim to cultivate a network of support and connection. This "sangha" – or community – of investors will be invited to join a private online forum where they can collaborate, cross-promote and share. The Center for the Development of Human Potential will help to foster your learning and growth, as you plug into a network of individuals who are like-minded and on a similar pathway of awakening their consciousness.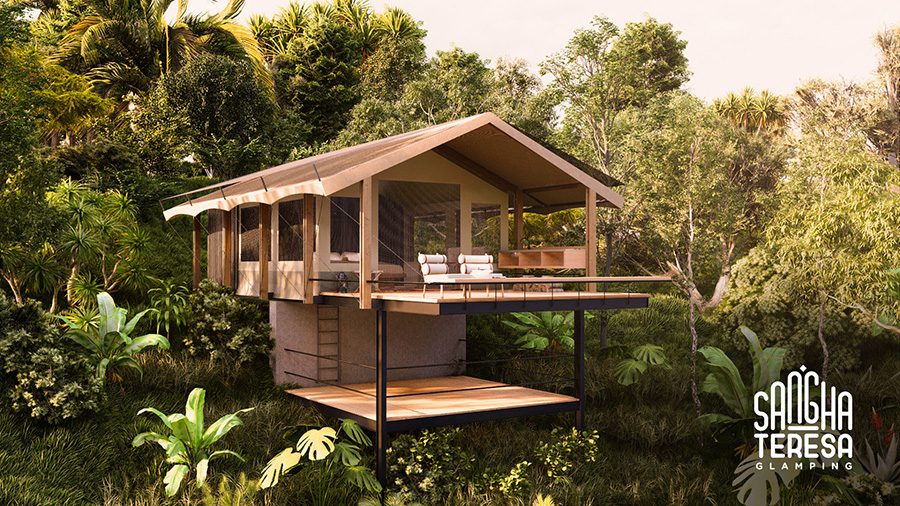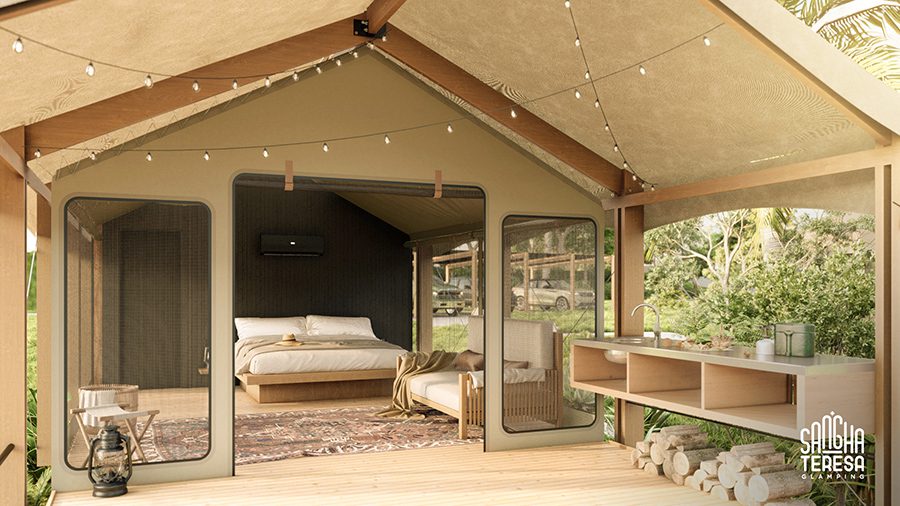 Furthermore, we want our investors to have the first opportunity to utilize the center for their own events and retreats. Once per year, we will put out an open bid to our investor community for their preferred dates. Bidders will receive their requested time on a first-come, first-served basis. We envision a beautiful cycle of offerings coming through the center, and our investors promoting and attending each other's programs to help bring prosperity to the entire community.
Green & Sustainable
Sangha Teresa is the largest eco-friendly and consciously designed retreat center in Santa Teresa, holding up to 90 people in luxurious, custom-designed glamping homes. Since purchasing the land, we have been spending our free time exploring the grounds and connecting to the natural elements of this place.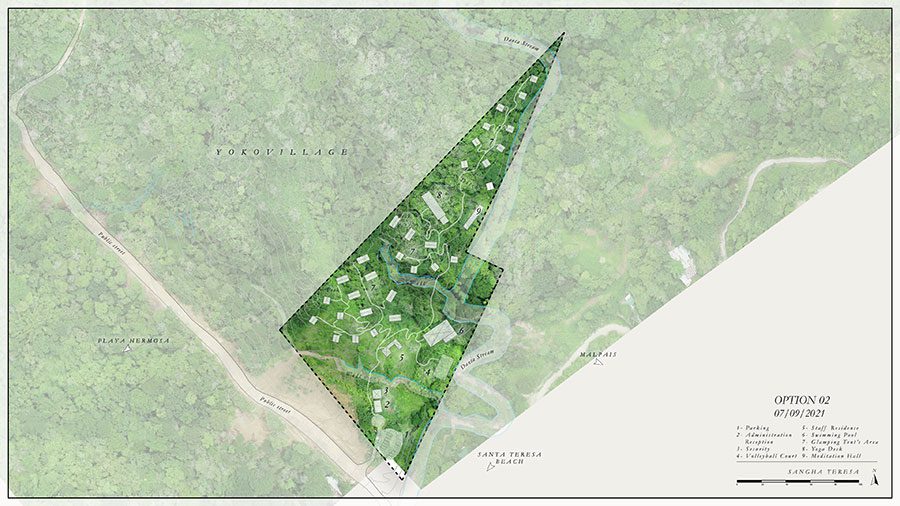 As stewards of this land, we not only want to guarantee its preservation, but actually aim to enhance it. We are hiring a team of eco-planners to design our center without cutting down a single tree. Furthermore, we will be planting an edible forest, a vegetable garden and adding a huge variety of indigenous flowers and plants to help encourage the local ecosystem.
Our environmental team will be introducing a sustainable water system, as well as utilizing renewable energy sources. Of course, no center can call itself green without a safe and effective waste management system, so this will also be of top-priority for our team.
In conclusion, if you are someone who has interest in yoga, wellness and business – then we have no doubt that this project will be an incredible investment for you. As an investor, you will help to literally breathe life into our Center. However, you will also gain a community and a beautiful center to call your home away from home. Please reach out directly to our Head of Sales, Jean Sebastien, to discuss your interest and questions. We look forward to hearing from you!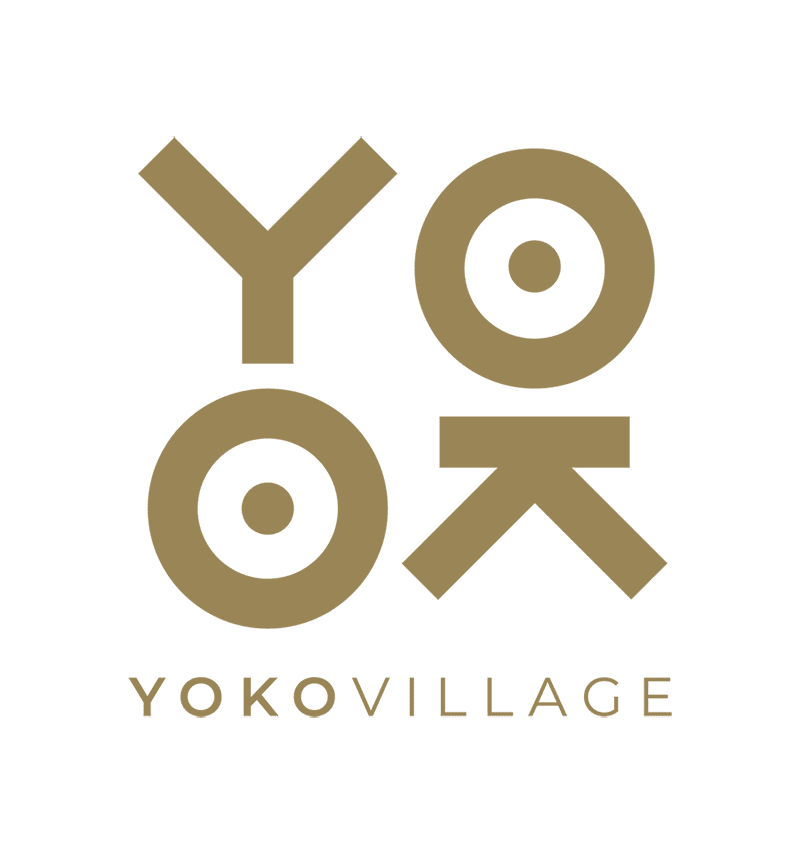 Follow our events on our Facebook and Instagram pages to stay up to date on what we are doing in the community. As always, reach out to us if you have any questions or want to schedule a call with us. Stay tuned for more exciting developments happening at Yoko Village!