Welcome to An Aerial Movement — A Weekend Retreat at Yoko Village, introducing Aerapy, a restorative method of aerial yoga designed to elevate the mind, body, and spirit.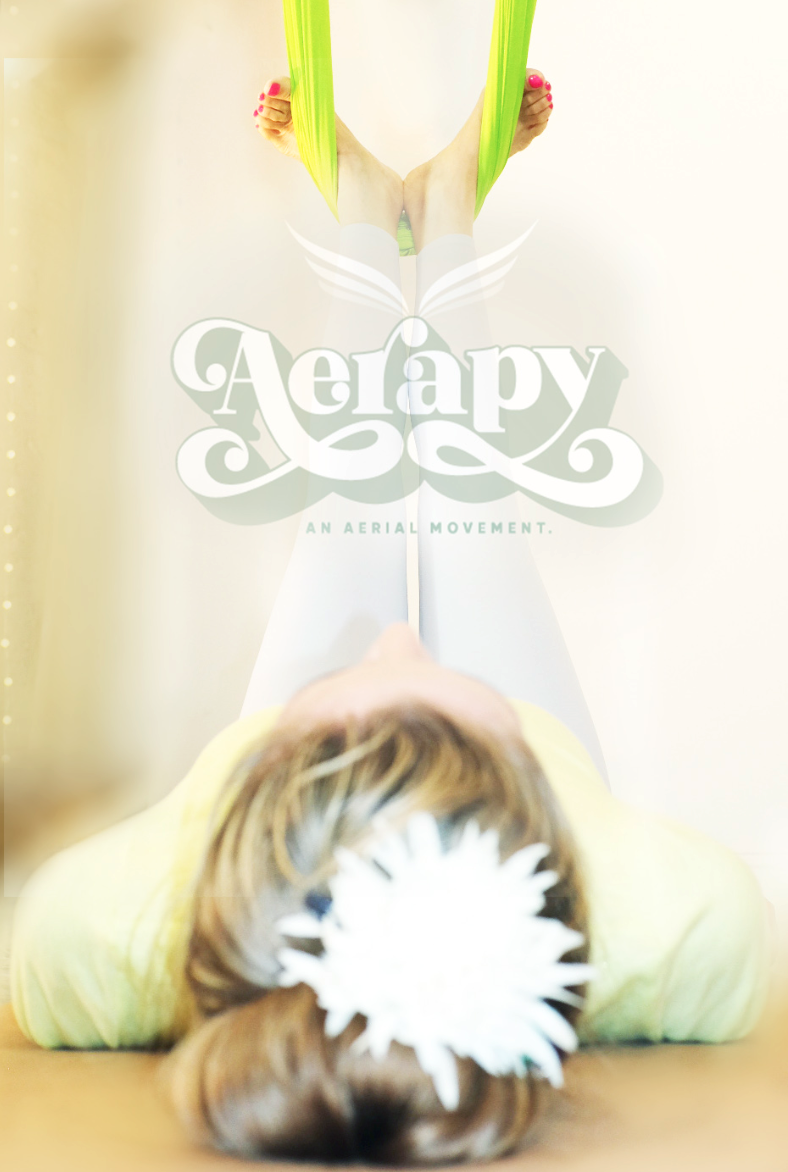 Join us! Be a part of the movement and serenity as we learn this new method of aerial yoga together for a weekend on the deck. Aerapy is all about decompressing and aligning the body using the force of gravity. Float. Swing. Fly. as you tone and strengthen muscles while safely suspended off the ground in soft fabric. You will be in trusted hands, guided by Petra, a certified aerial practitioner and the founder of Areapy. This is a unique opportunity to enjoy the health benefits of hanging upside down, deepening your mind-body awareness, and meeting new people in a friendly atmosphere with stunning sunsets. Aerapy is for all levels: absolute beginners, experts, yogis, and non-yogis alike.
If you love yoga; you'll love it. If you hate yoga; you'll love it.
Health Benefits of Aerapy
Decompression and hydration of the vertebral discs in the spine, re-alignment of the spine, calming of the nervous system, refreshment of the endocrine, lymphatic, digestive, and circulatory systems, increased proprioceptive response and kinesthetic awareness, somatic release of muscular tension, core strengthening, increased joint mobility, and glowing skin.
Event Details
Dates: December 15th to December 17th
Location: Santa Teresa, Costa Rica (mountain top)
# of participants: Min 6 – Max 9
Price of the retreat: $200 (does not include lodging & meals)
Snacks and refreshments will be available. Price for the retreat does not include meals, but we will have menus on hand for a range of delicious delivery options.
Venue
Hummingbird Garden is located in a serene ocean-view setting at the top of the mountain, overseeing incredible panoramic views of the ocean and jungle.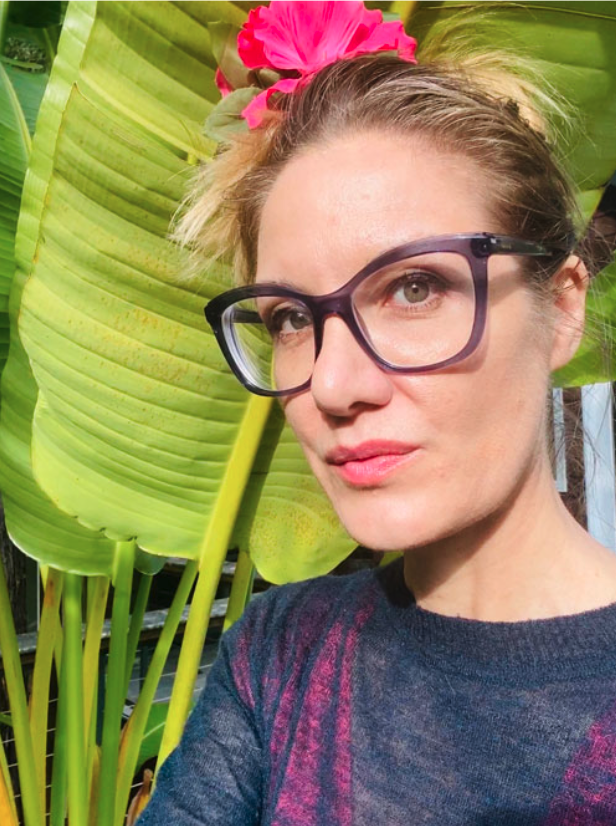 About Petra Hanson
Petra Hanson is a wellness entrepreneur and founder of Aerapy from New York City. Prior to launching her company in Brooklyn, she held several professional titles, including storyteller, visual designer, and former pop singer-in-Japan. Her background in dance, yoga, and music eventually led Petra to the aerial arts, not for the performance, but to release tension and stress in the body. Those first classes were intimidating with highly advanced acrobatic moves. Initially, she did not fall in love with it; she just fell down and got bruised. Seeking a gentler version for non-acrobats, Petra eventually found a few like-minded aerial teachers in Hawaii, Northern California, and New York and began to fall head over heels in love with her much slower and more forgiving aerial practice. She became certified in Antigravity Fitness® by the world-established Christopher Harrison and recently opened her own affiliate studio in Brooklyn. There, she continues to hone Aerapy and a new hammock design, soon-to-be-released, with softer eco-friendly fabric for extra comfort and support. She believes all bodies, ages, and levels can enjoy the experience of moving in the air in a manner that's exhilarating but also safe and calming to the nervous system. She is thrilled to debut Aerapy with Yoko Village for a retreat in Costa Rica.
What to wear to an Aerial Class: 
Do: Wear comfortable leggings or tighter fitting clothing, or a rash guard that won't fall down during inversions prefer pants or leggings or biker wear that covers the knees, a fitted T-shirt or long sleeves to cover armpits and to minimize friction. Tank tops are ok, but may be slightly uncomfortable in some poses.
Don't: No loose-fitting shorts. No crop tops, or bikinis. No zippers, or anything that could catch and snag the fabric. No jewelry that is sharp or dangling. No socks or shoes.
Contraindications: 
This class may not be for you if:
You are pregnant

Have heart abnormalities

Have glaucoma

Have had recent surgeries 
Agenda
Day 1: Friday 15/12, 2023
3 pm – Meet & greet
4 pm – Opening ceremony. Intention-setting with Joi cards & handout with prompts
4:45 pm – First Aerapy class: Sway — a light flow of poses with the fabric low to the ground for ease and relaxation.
6 pm – Sunset relax, group storytelling & group connection.
7:30 pm – Dinner.
8:30 pm – Bonfire and instrumental session
9:30 Call it a night. The evening ends early for you to start fresh tomorrow morning.
The first day is for you to check in easily, get your vehicle if needed, get familiar with the group, and learn about the basics of this practice. You will learn how tension is carried in the body and how we will be calming the fight or flight nervous system & working on the somatic release of tension in a gentle manner.
Day 2: Saturday 16/12, 2023
8 am – gathering for coffee & team
8: 30 am – Aerapy class (90 minutes) Decompression Session — A higher energy class with an introduction to inversions & basics of aerial choreographed with music set to a tempo for ease & flow
10 am – breakfast
11 am – 4:30 Relax into your day with options such as Group/private beach time, tide pool swim, waterfall hike, or just relaxing in our salt pool, having an ice bath or a sauna. You can book a massage or a breathwork healing session privately available at our retreat space
4:30 – Aerapy class (90 minutes) Open Up — A gentle class with elements inspired by Thai massage and how to use the fabric and gravity for therapeutic somatic release in specific areas where the tension lives in the body.
6 pm – Sunset relax/sauna/hot tub, group storytelling & group connection.
7:30 pm – Dinner.
Day 3: Sunday 17/12, 2023
8 am – gathering for coffee & team
8: 30 am – Aerapy class (90 minutes) Be Free — an energetic warm-up with more challenging inversions and a longer vinyasa.
10 am – breakfast
11:30 – Project Spinalism. Experience the joy of painting while inverted. This is Jackson Pollock elevated to the next level. We will learn to create beauty with colors & shapes. Each student will spin a painting and get to keep it as a visual reminder to stay centered and balanced within the forces of nature and gravity.
Closing ceremony – Revisit our intention from day one. How will you let this new experience in your body inspire your own personal movement? All graduates will earn a set of virtual Aerapy wings.
Food: We've got you covered. Just let us know of any dietary restrictions.
Lodging at an ocean-view villa? 4×4 transportation – our concierge will coordinate your entire stay.
What else is available at the event space:
Yoga deck

Salt pool

Ice bath

Sauna

Hot tub

Bonfire area

Massage beds

Sunbeds

Dining area

Coworking area

Podcast studio

Free wifi & parking

Coffee, tea & mineral water available 24/7
A word from the retreat space owner: 
Dear friends, I'm Liran Rosenfeld the founder of Yoko Village and the owner of this property/ retreat space. I was not familiar with aerial Yoga up until lately. Since I'm a man in my 40's and not that flexible, this seemed to be something that was not for my capabilities or my type of person. However, when I first met Petra, she shared with me about how Aerial Yoga heals, and she also gave me a quick introduction class. Since then, I've been wanting to learn more. This will also be my opportunity to learn, hence, I'm sharing the space with Petra and the guests. I'll say this, there I was on a vacation in Bali and I went to a specialized yoga studio that offered Aerial yoga, to try and satisfy my curiosity and see if this is really for me. My experience was completely different. I did not enjoy it and even felt it was somewhat dangerous to me because I could see myself being injured. It was so different than what I had experienced with Petra.
To conclude:
for beginners/first-timers like myself, it isn't great to engage in aerial yoga without
A setting with just a few people.
The fabric used today in most studios is hard on beginners, and having Petra designed a unique patented fabric, the whole experience changes. I do not doubt that in a few years from now, Petra will be famous for creating this product for Aerial Yoga practitioners.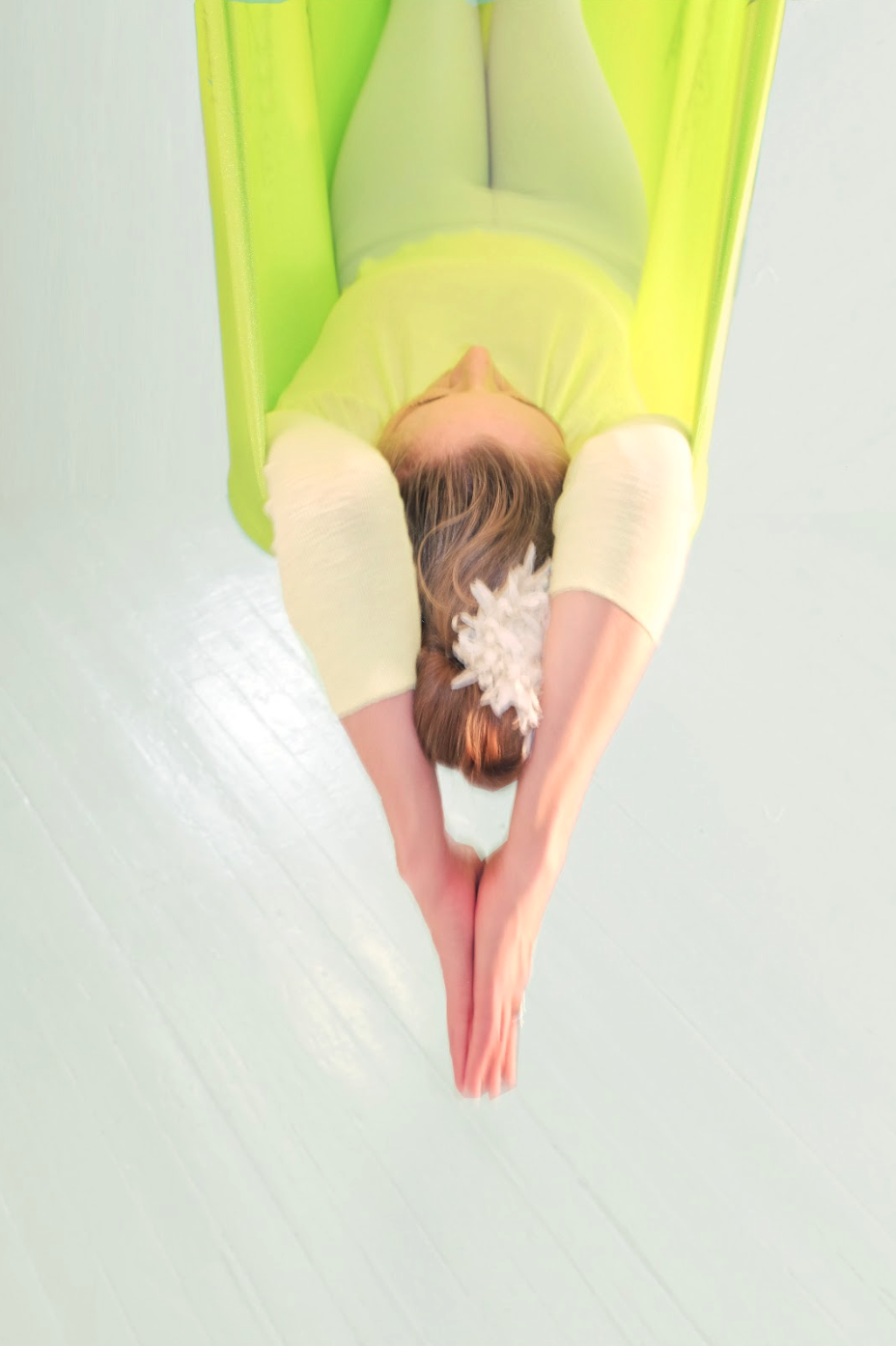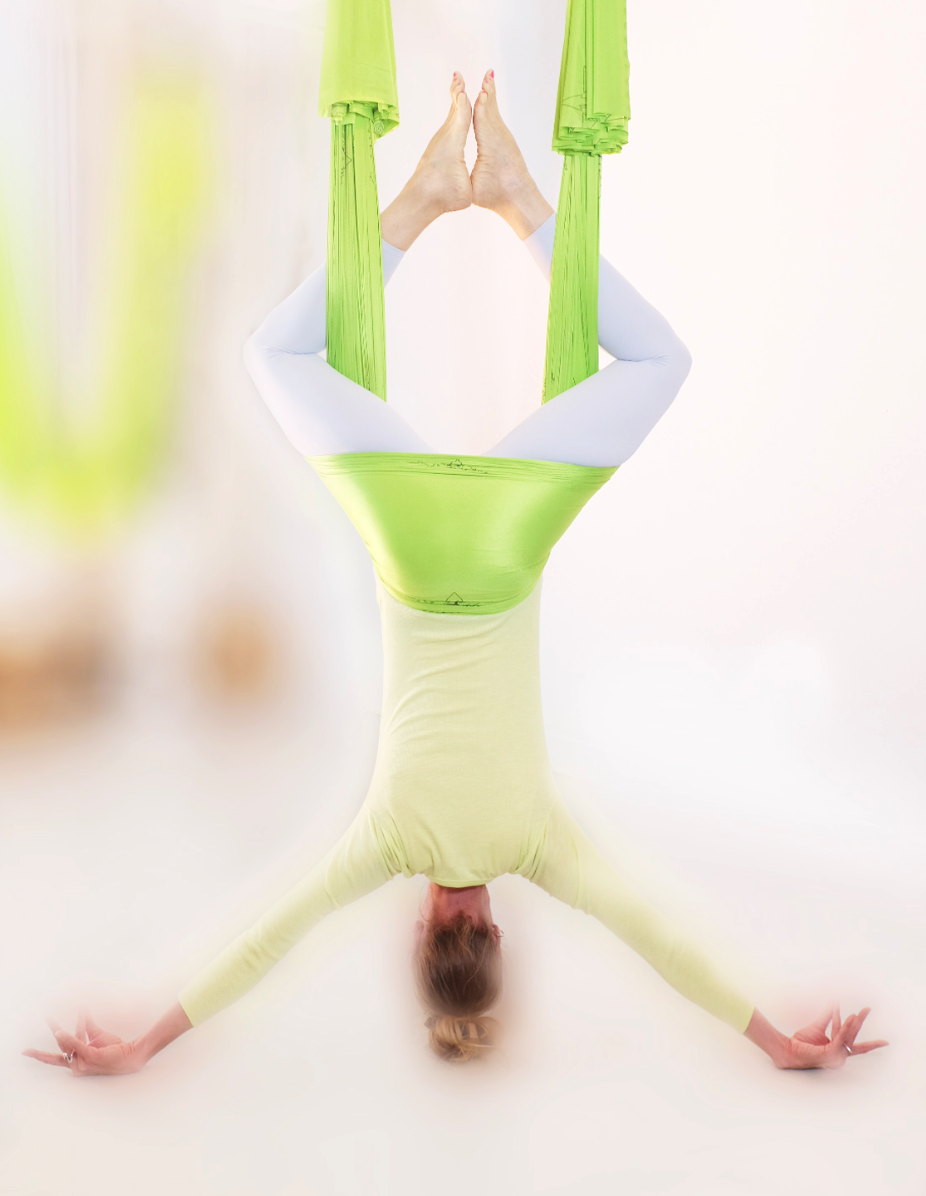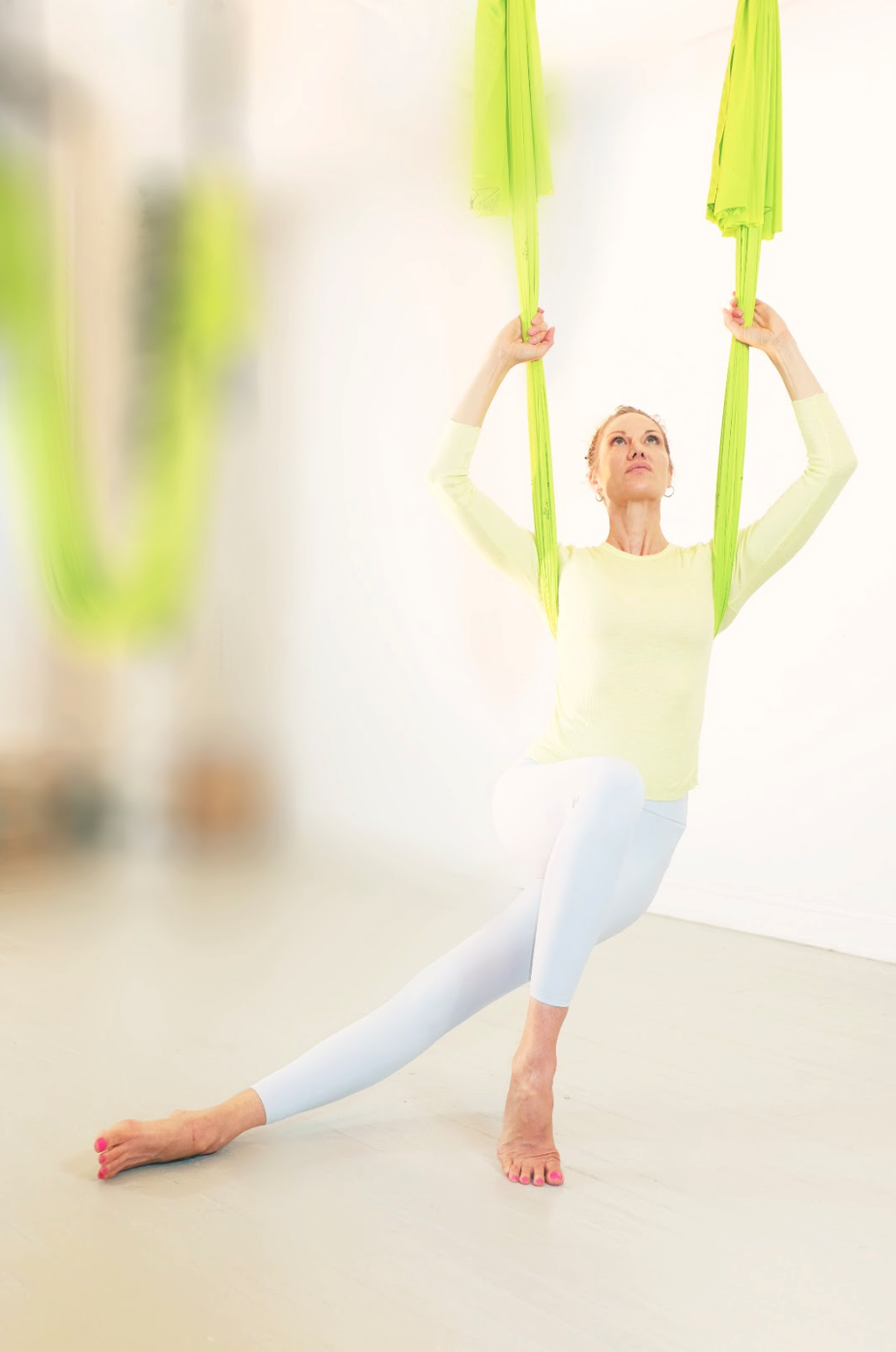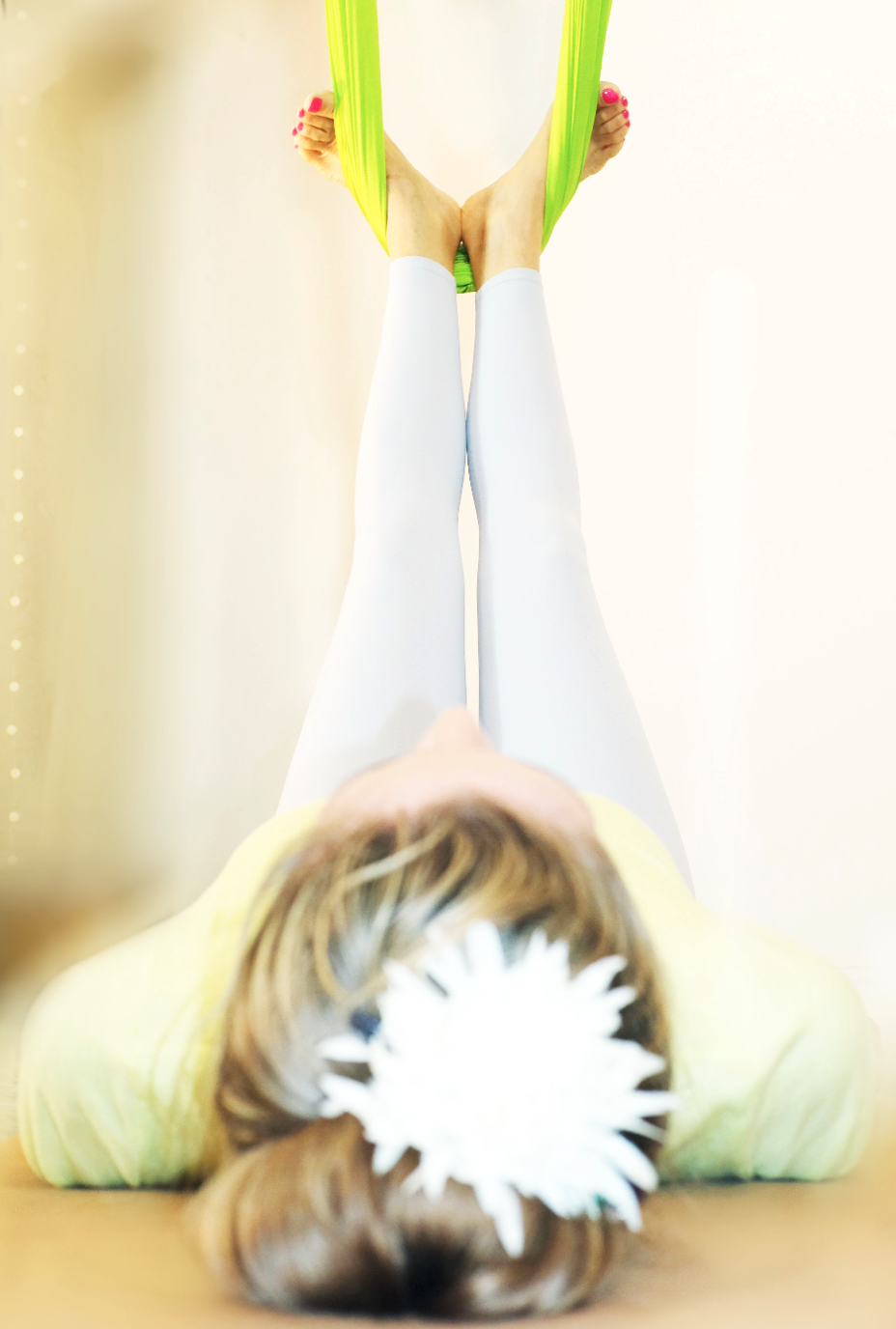 Photography by Luis Zuluaga
Follow our events on our Facebook and Instagram pages to stay updated on what we do in the community. As always, reach out to us if you have any questions or want to schedule a call with us. Stay tuned for more exciting developments happening at Yoko Village!