THE NAMES BEHIND YOKO VILLAGE AND OUR MAGICAL LAND
Yoko Village land has been acquired thanks to a group of visionaries and makers who wanted to build this collective dream. These are our incredible investors who made it happen:
David is a serial entrepreneur passionate about sustainability and the welfare of our planet. He holds a Ph.D. in 3D printing of metal nanoparticles and is the founder and advisor of various venture-backed startups in the AI, energy storage, healthcare tech, and 3D printing space.
Alex is a dentist/entrepreneur, currently working on a healthcare tech startup. After visiting Santa Teresa yearly for the last decade, he is thrilled to be able to make a home here. Alex enjoys surfing, gardening, cooking, and DJing, and is always up for meeting new friends.
As the co-founder of GuruLink, one of Canada's preeminent technology recruiting firms, Drew has spent the last 20+ years of his life helping to advise and scale some of the most well-known startups and scale-ups in Canada and the US.  In addition, Drew is an active mentor at TechStars and Founder Institute, a fairly active angel investor having invested in over 20 startups, an avid traveler (57 countries and counting), and the proud father of twins.
Brad is a co-founder of GuruLink – a high-tech recruitment and software innovator based out of Toronto, Canada. GuruLink's ethos is similar to Brad's belief in sustainable development and the balance between tech and a healthy lifestyle. Brad graduated from the University of Waterloo with a BES, honors in Geography & Environmental Resource Studies. When you can't catch him on his devices, he is probably trying to surf, doing yoga, hiking, gardening, or figuring out a way to source more fresh coconuts to drink.
Vikram Gundu
Vikram has been in the IT consulting & staffing domain over the last 10 years in the US, and he currently owns and manages a few popular Indian restaurant chains. On the side, Vikram is into real estate investments and private equity. Outside of work, he loves traveling, socializing, nature, and sports!
Jakub has more than 5 years of experience in the renewable energy sector, including international project management, working for a leading consulting firm, and business development in the hydropower sector. He is currently pursuing new energy-related projects for private investors. Jakub is passionate about photography, motorbikes, and encountering new cultures and languages.
Dana is an author, speaker, and transformation guide; she focuses on helping organizations and people to create inspiring new futures. Previously, Dana worked for five years as a business development specialist for global cooperation. These days, she is finishing her first book, Breaking Cages, which will be published soon.
Marta is a digital marketing professional based in Zurich with experience working for startups and the biotech industry. She is passionate about mindful living and applying a slow-life approach to our full-paced lives. Marta is inspired by the power of intentional living and is a true believer in a local's wisdom: "Costa Rica might not always give you what you want, but it will give you what you need."
NOW ENTERING THE SECOND FINANCIAL PHASE
The Phase 1 financial tier is officially SOLD OUT and we are now starting Phase 2.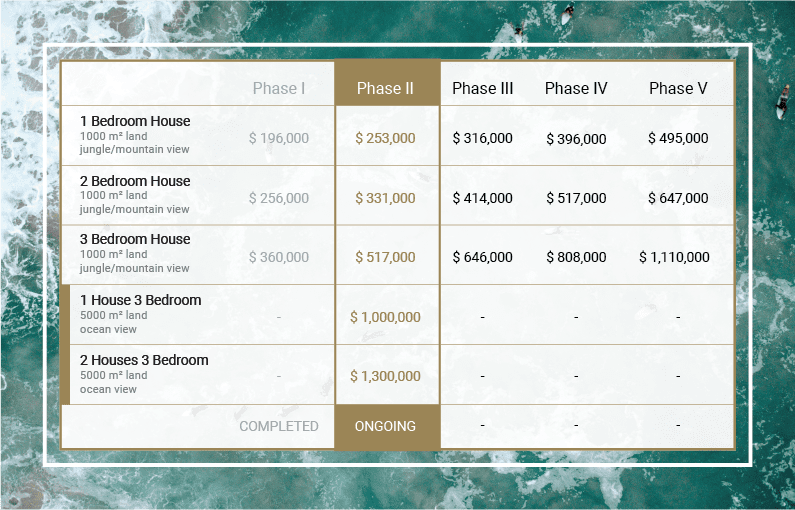 THE PROJECT DIVIDED INTO FINANCIAL PHASES
Phase 1 was different from the rest of the phases because it required all cash in hand to secure a villa.
Phase 2 payment plan requires an initial deposit, followed by four payments: The first payment is due once we start building, the second payment is due after construction has started and reached 20%, the third payment is due at 45% through construction, and the fourth payment is due after 75% of the construction has been completed.
We have now around 30 interested parties, and our sales team is projecting Phase 2 to be sold out within the next 6 weeks. Now is the time to contact us if you want to ensure your place on our waiting list.
You can read more about the breakdown of Yoko Village financial plan here 
ANNOUNCING THE NEW 3-BEDROOM OPTION
Thinking you might need some more space for excellence to grow in your Yoko Villa? Check out our beautiful new 3-bedroom! You can also check out more details of the plans on our website.
NEXT STEPS OF MAKING YOKO VILLAGE A SUSTAINABLE DEVELOPMENT
Our environmental team is currently working on early-stage development, natural resource management plans for our newly purchased land. This includes mapping the vegetation of the land to mark and preserve important species, habitats, and ecosystems.
Stay tuned for our upcoming series of articles that will cover a range of environmental topics that are organized by the various stages of the development process.
Topics will include:
●        Vegetation mapping
●        Native species descriptions
●        The construction process
●        Building materials
●        Waste management
●        Resource consumption
●        Community partnerships
If you missed it before, go ahead and check out our past article on Yoko Village's environmental action plan.
Follow our events on our Facebook and Instagram pages to stay up to date on what we are doing in the community, and subscribe to our newsletter to receive all the most exclusive updates straight to your inbox.
As always, reach out to us if you have any questions and stay tuned for more exciting developments happening at Yoko Village!