~Center for the Development of Human Potential~
Recently, we shared how the "Lucky 6" deal was created and that we are replicating this model with the opportunity for our new Yoko Village project. Well, here we have some more great news to share.
In the early stages of Yoko, our dreams were boundless. However, at some point, we had to face reality and the limitations of the permitting process. As part of our original plan, Yoko Village was going to include a visitor center, as well as a transformative retreat center. The logistics of space available proved to be challenging, which forced us to let these elements go.
Luckily, we have found a new approach to make this happen. As work on the Village recently began, we discovered that there was an adjoining piece of land available for sale. This was exactly the miracle we had been hoping for!
We have just purchased this neighboring land, and are now prepared to share our newest project – Sangha Teresa.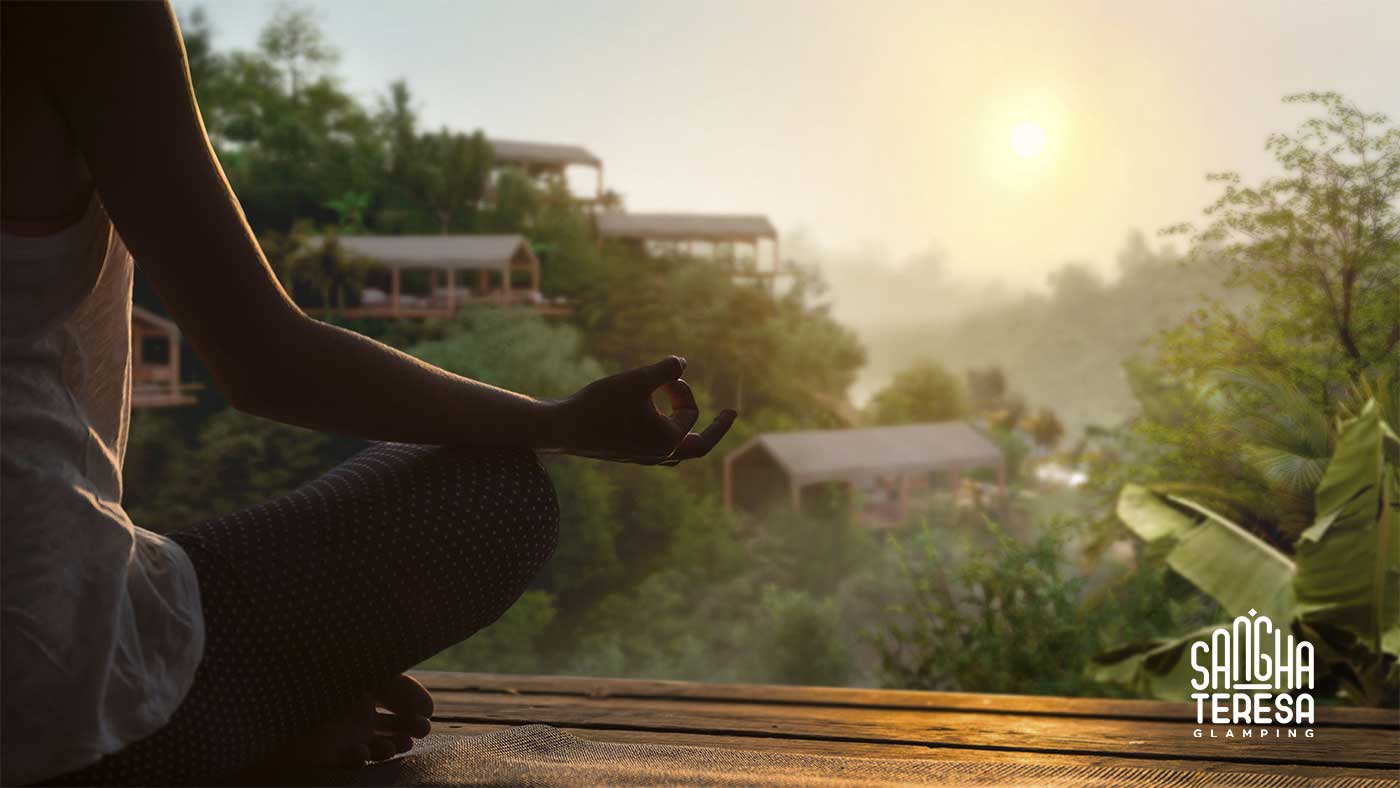 What is Sangha Teresa?
"Sangha" is a Sanskrit word – the language of India, that is found in the most ancient yogic texts known today. Although it does not have a direct English equivalent, it is most closely translated to "conscious community". It is with deep reverence and honor that we use this sacred word to name our Center for the Development of Human Potential – a retreat center where humans begin to cultivate a space for reflection, vacation, healing, spirituality and transformation. Sangha Teresa can also be described as a one-of-a-kind glamping retreat center and an educational institute that is dedicated to the development and health of its participants.
Who is Sangha Teresa for?
This center is for adults aiming to experience a meaningful time of exploration and connection to a friendly community and extraordinary contents. Would you like to be a part of a network of seekers who look beyond dogma to explore new horizons and obtain access to a variety of incredible activities & teachings that are not easily available? Do you value service, curiosity, diversity, connection and transformation? These are the values that we hold dear.
Where is Sangha Teresa?
Tucked peacefully into the same inspiring mountainside as Yoko Village, guests are able to enjoy the serenity of the natural grounds, while also being just five minutes away from all of the amenities that the town of Santa Teresa has to offer.
Although its location makes it extremely accessible to the residents of Yoko Village, the two projects are independent and Yoko Village will maintain its privacy and intimacy without any affectation from the center next door.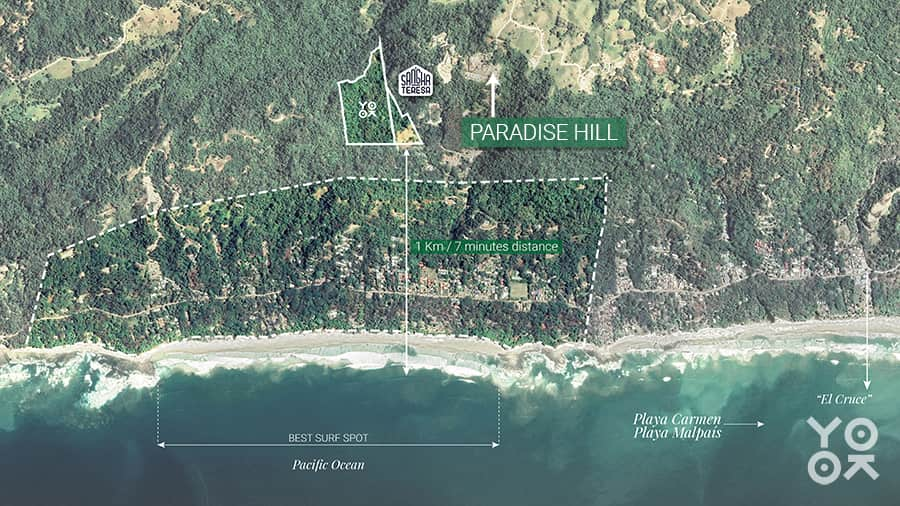 Re-inventing glamping
We introduce glamping at its finest with our unique and custom-designed homes, which offer the perfect balance of inviting the experience of the outdoors inside, while keeping the very real bits and pieces of nature outside.
Each glamping space is 30-40m² and has a private internal bedroom, as well as a semi-covered porch area. Our design team has worked hard to maximize on majestic views, while maintaining guests' sense of privacy. We've selected furnishings that enhance the beauty of the natural surroundings, instead of distracting from them. These "glamping villas" are the epitome of simple elegance.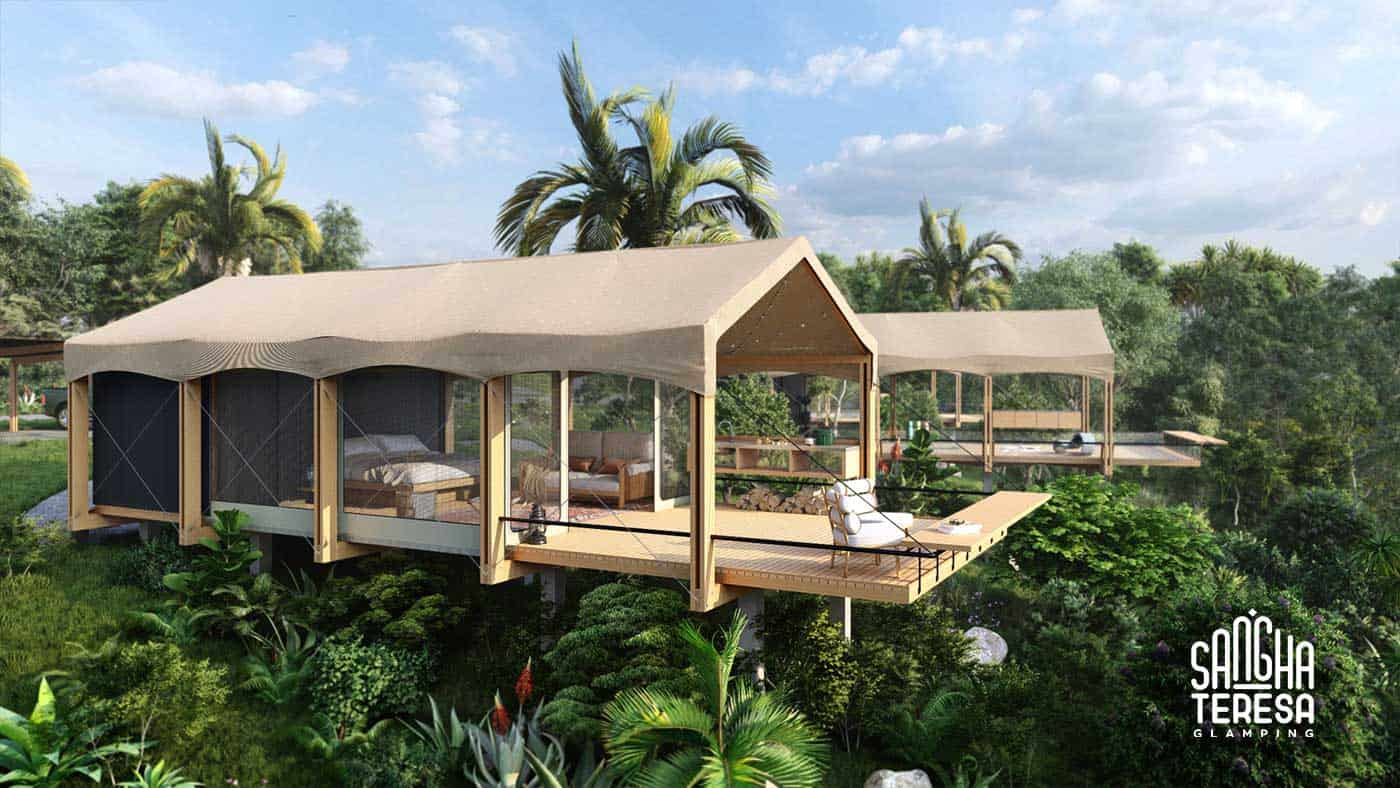 Tent walls can be opened to screens, allowing for ventilation and maximum views, or they can be closed up to allow for more privacy.
Glamping retreat in Santa Teresa – tell me more!
We offer much more than just a vacation, because we recognize that the modern traveller is seeking more depth – they want an experience. Travelling is no longer just about escaping the monotony of our day-to-day life, nor indulging so much that we actually need a vacation to recover from our vacation.
Sangha Teresa will be a center that people can visit to recharge and reconnect – to nature, to themselves, and to a community of like-minded people who strive to grow, heal and discover. The grounds will have an ashram for asana and movement practices, as well as a meditation hall that will also be available to host dharma talks and informative workshops. There will be around a dozen smaller, private meditation huts sprinkled across the property for more independent meditation practice. A shared pool and communal dining space allow for group gatherings and meaningful connections.
More details about the land and our vision: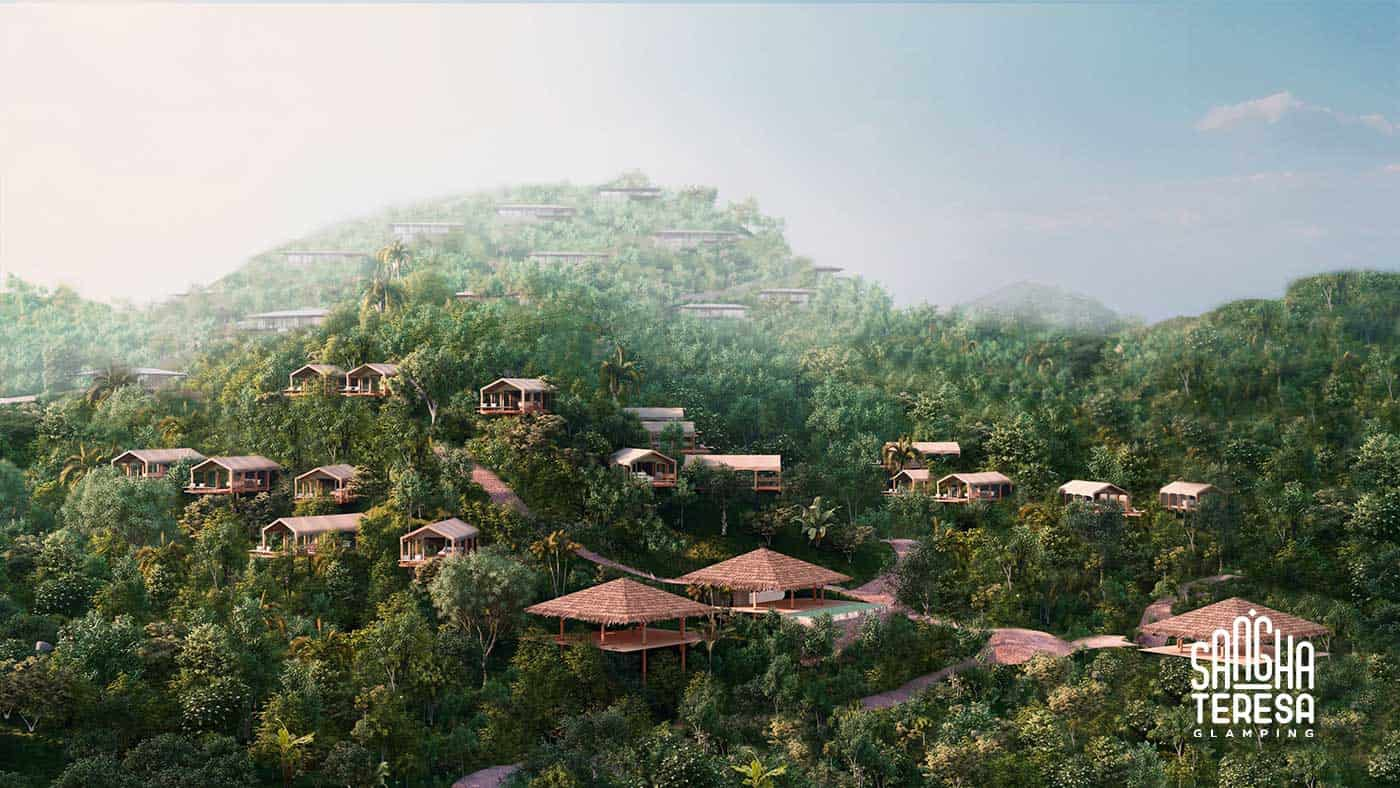 Of course, the preservation of the natural environment is absolutely vital to the quality of our center because when nature thrives, we thrive. Located on 2.7 hectares of rich forest land, the center is bordered by a beautiful, pristine river. We will follow a minimum impact construction plan, which allows the center to harmoniously integrate into the wild. The landscape design will lead guests through an edible food forest, and surprise explorers with pockets of walking trails and secluded hideouts. We invite you to take a sip from the fountain of life that is Sangha Teresa.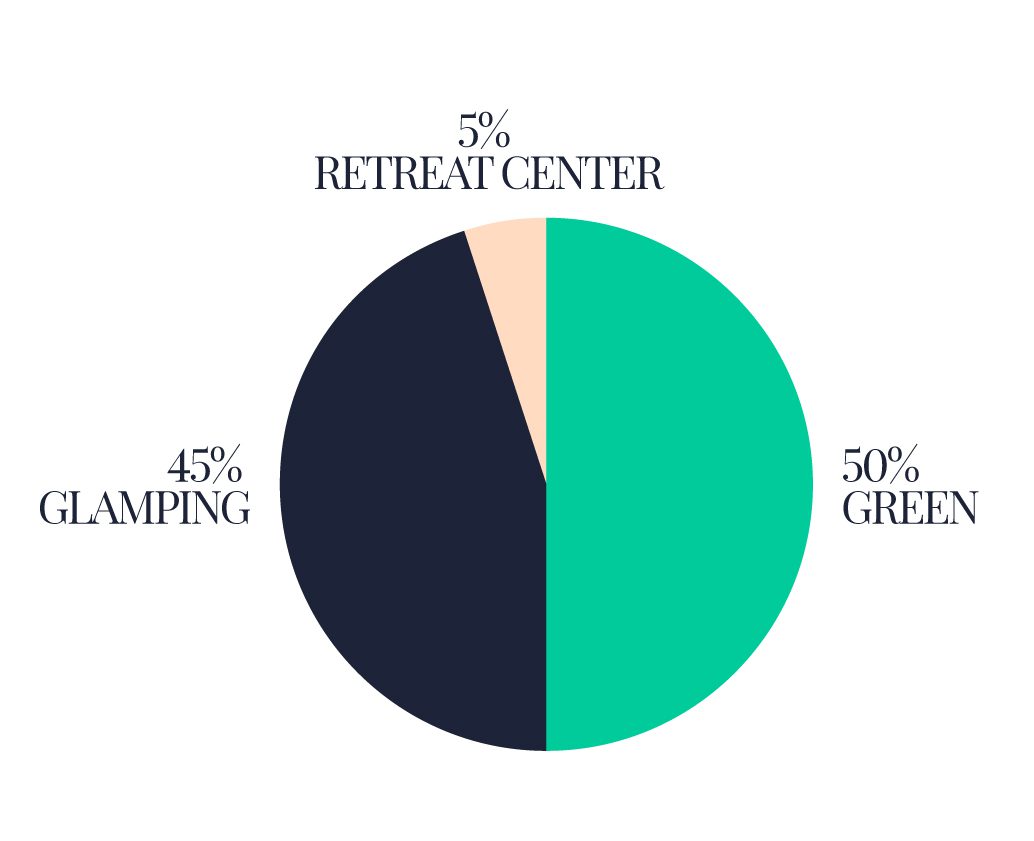 Our design prioritizes maximum preservation of green space.
What will make Sangha Teresa a life-changing retreat?
By offering a variety of options, we allow guests to customize their experience. Just as yoga teaches us that our bodies are diverse with varied needs, we recognize that some people want a lot of freedom, while others yearn for more structure and guidance.
Sangha Teresa will have an in-house team that operates weekly or bi-weekly retreat schedules, depending on the season. We will offer packages that are 5 nights/6 days, or 13 nights/14 days. Our holistic retreat experiences will include daily yoga asana, meditation, pranayama and deeply nourishing meals from our Ayurvedic chef. Additionally, participants can choose from a range of body work, energy treatments, workshops, and excursions. Cleansing programs will also be offered, such as juice and liver cleanses. Our team is so excited to help you curate the retreat of your dreams!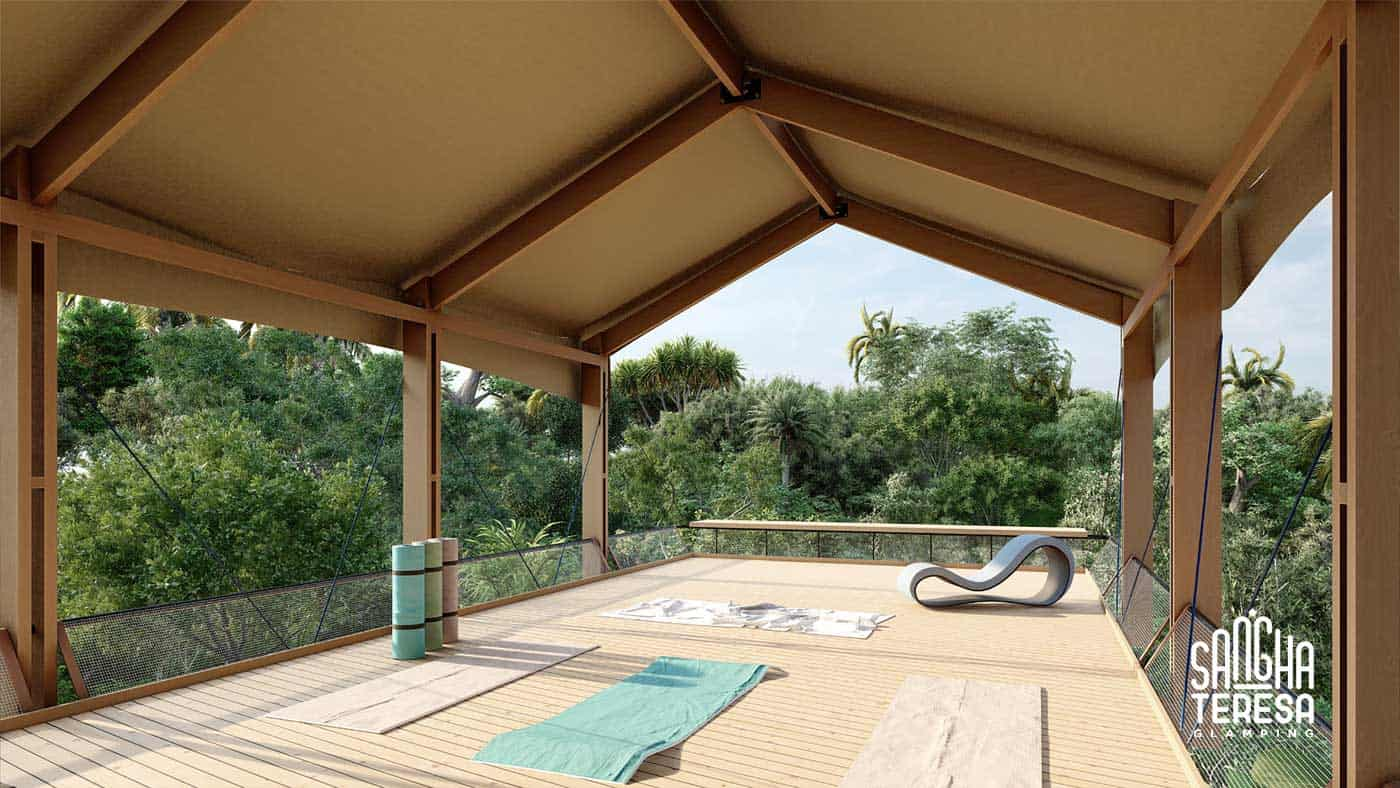 Beyond our in-house yoga retreats, we will also be renting the center for private retreat groups. These retreats can be whatever duration the host wishes, and our management team will help to coordinate all the details. We offer a solid foundation for retreat leaders to depend upon, allowing them to generate their own magical experience.
If you are a retreat leader, we encourage you to reach out to us here about booking space for your group or event. Although 2020 was not exactly a year of international travel, we seem to finally be moving onwards and upwards. At this time we are also extending an open invitation to our global community to be a contributing part of this project. Through our Work Exchange program, we are calling in professionals and talent in all areas. Perhaps you are a carpenter, a painter, a landscape artist, a chef, a massage therapist, or a yoga teacher. Through this concept, selected volunteers will contribute four hours of daily work, in exchange for accommodation, meals, and the opportunity to participate in the activities at Sangha Teresa. If this sounds of interest to you, please contact us here with a description of what you can offer to the community.
A retreat in Santa Teresa
The incredible energy of Santa Teresa has drawn so many talented musicians, teachers and healers to the area that we, at Sangha Teresa, will be inviting these individuals to share their gifts with us.
We look forward to hosting transformative events such as ecstatic dance, sound healing workshops, volleyball tournaments and fun cooking classes.
What else do our guests seek?
To experience a meaningful form of vacation time
To gain in-depth relationships
To get inspired
To heal
To learn and develop new skills and talents
While our center is not about indulgence, we are easily accessible for guests to find their own balance between these different worlds.
What will I experience in Sangha Teresa?
Our guests can expect to find diversified retreats hosted by some of the most interesting people from around the globe. The leaders that we host will take you on an educational & creative journey of deep exploration, that will help you to nurture your personal growth. This experience will allow you to tap into a fresh zone of mindfulness, releasing old patterns and baggage to step into your own power. On board we have: coaches, teachers, experts, authors, artists, philosophers, psychologists, dancers, musicians – each with something unique to teach and offer you. They come from all over the world to inspire you, and will help you to discover the beauty and magic of life, as well as your own immense potential.
We will encourage you to:
Be kind to yourself
Play (in nature, in our community pool, with friends…)
Get active (walk, surf, train, etc – but also play volleyball and even ping pong)
Connect to your higher self, practice yoga, meditate
Eat healthy
Relax, rest, read (enjoy a variety of books from our library)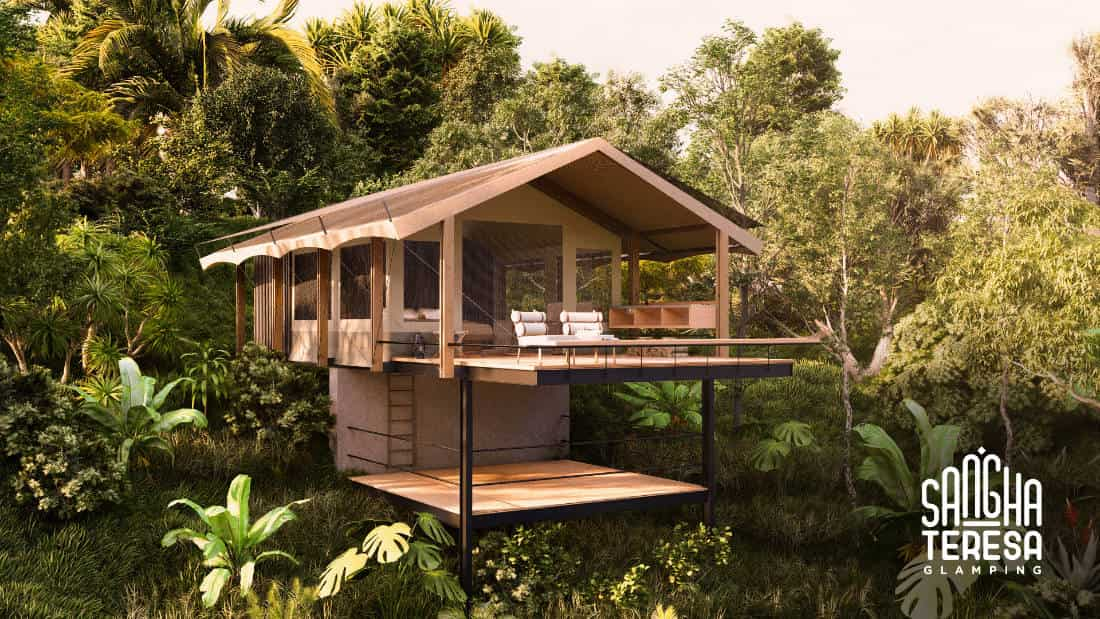 What daily activities would I be able to participate in at Sangha Teresa?
Spiritual
A variety of morning, afternoon and evening yoga classes
Daily morning and evening group meditations in our meditation hall
Mindful walks
Detox
Note that most of our center is cell phone free, although you are permitted to use your device in your glamping unit or the designated zones.
A silent retreat
A juice cleansing/liver cleansing retreat
Detox massage therapy session
An infra-red sauna experience
Purifying vegan meal from our restaurant
Educational
In addition to our hand-selected community library, lectures and courses will be offered in such subjects as:
Environmentalism
Sustainability
Compassionate leadership
Conscious relationship to money & abundance
Tantra & sexuality
Vipassana meditation
Buddhism
Conscious eating
And so much more!
Recreational
Hang out by the pool
Enjoy the togetherness of communal meals
Rest or read in one of the many hammocks spread around our property
What Sangha Teresa is not:
We are not a hippie community
We are not a party place
We are not inviting drug or alcohol consumers to our space
We are not a place of secret ceremonies, and there are no branded drugs here (Ayahuasca, Kambo, etc.)
We are not a place for entire families
Sangha Teresa welcomes people from all walks of life that are searching for an experience of mindfulness and rejuvenation. Our center is designed with barefoot luxury in mind and we have no doubt that you will leave feeling healthier, happier and inspired.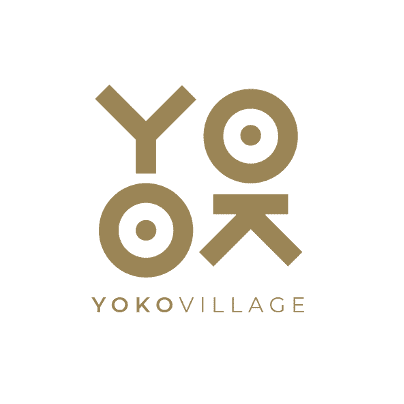 Follow our events on our Facebook and Instagram pages to stay up to date on what we are doing in the community. As always, reach out to us if you have any questions or want to schedule a call with us. Stay tuned for more exciting developments happening at Yoko Village!