How many 2BR villas do you have left? 
There are 8 1000m² lots left for sale in phase 3. Any of the 1000m² or 2000m² lots can have a 1BR, 2BR, or 3BR villa built on them.
How many ocean view lots do you have left and at what price?
There are 3 ocean view lots available. They can each have 1 (at $1.1 million) or 2 (at $1.5 million) 3BR villas constructed on them. 2BR villas can be built, but the price does not change. Unfortunately, there is no financing available for the ocean view lots.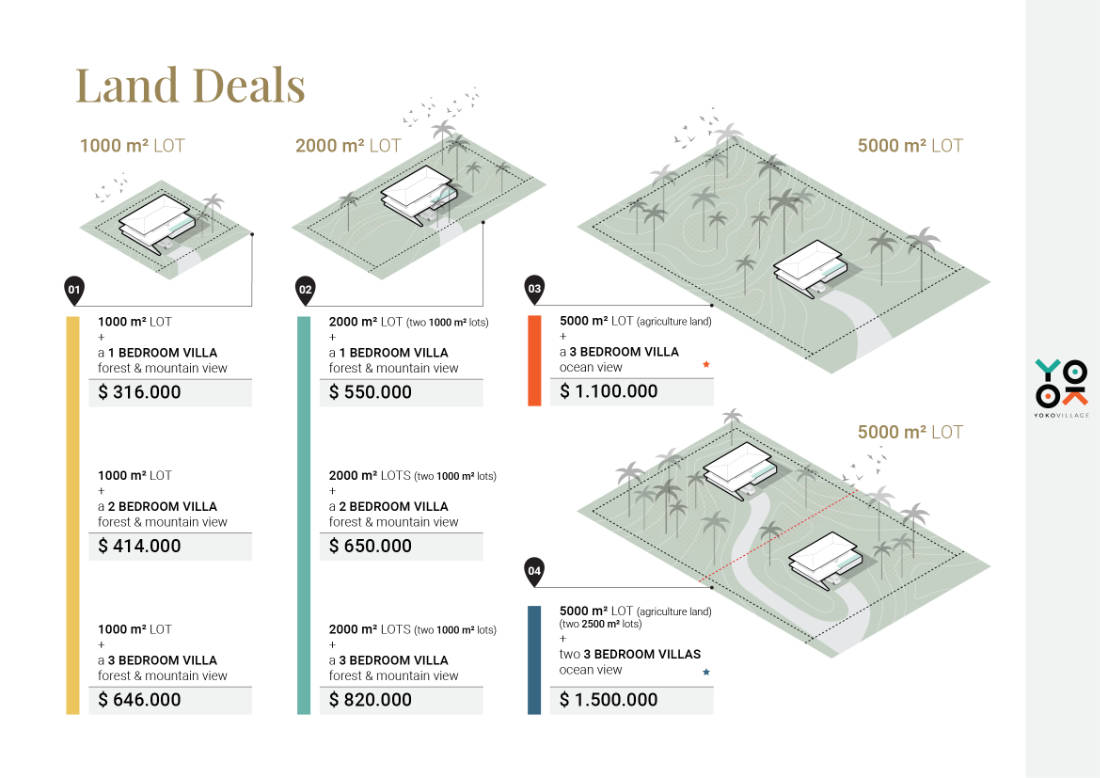 What is the payment structure?
A $25,000 deposit is required to secure your purchase, which will be deducted from the total cost.
1st payment of 25% when plans and permits have been presented.

2nd payment of 25% when the foundation of the villa has been completed.

3rd payment of 25% when the concrete floors, electricity and sewage installations are finished.

4th payment of 25% when the villa is built and finished.
What is the minimum deposit to secure my spot in the current financial phase?
At this time, the required deposit is $25,000.
Is it possible to rent out our villa when we are not living there ourselves?
Yes, we are happy to support you in renting your villa when you are not around. If you do choose to rent your home, you have the option to manage this independently or you can utilize the Yoko Village management service for a fee of 20%. Our service is designed to take all of the stress and worries off of your shoulders. We diversify our reach for bookings through channel management software, allowing your villa to be listed and seamlessly managed across all major booking platforms (AirBnb, Booking.com, Homeaway, VRBO, etc). Keep in mind that each platform will include a unique commission rate for your listing. Yoko Village's management team offers full service throughout all aspects of the booking process. Frequent rental and turn-over of your villa may incur additional maintenance costs.  For a look at projected Home Buyer's profit margins, click the "Rental Income" tab of our FAQ section.
We would like to visit within the next month, is that possible?
Yes, the site is open for viewings with a host from our team. To schedule an appointment to view the property, please contact our Head of Sales, Jean Girard. We look forward to connecting with you!
Is owner financing available?
Yes. You can find all of the details here in our recent blog post about Yoko Village financing.
When will Phase III be ready?
We are on track to deliver Phase III homes within the projected time frame in Q3 and before Q4 of 2022.
Is it possible to see which lots are still available?
Yes, please have a look at our information deck. On page 32, you can find information regarding which lots are still available.
What is the pricing breakdown for the different models?
For pricing breakdown, please have a look at page 33 of our information deck. Here you can find the most up-to-date information on the various options.
Will families be living in Yoko Village?
Yes, we already have several buyers that plan to join the community with their families. In the "Amenities/Lifestyle" section of our FAQ page, you can find more information about family-living here in Santa Teresa.
Have you all already broken ground, or are the Phases still pre-sale?
Construction of the main entrance road has already begun, and we have recently completed the construction of the entrance bridge to the village! Villa construction has not yet started, however, the first Yoko model home is an original 1BR villa that is built on the same mountain, overlooking Yoko Village from behind. If you are interested in viewing the model home, please reach out to Jean to schedule an appointment.
What are the monthly HOA fees?
The estimated monthly HOA fees are $250 for the 2BR villas and $350 for the 3BR villas. The monthly HOA fees include 24 hour community security, landscaping, and general maintenance and upkeep of Yoko Village (i.e. shared workspaces, gardens, roads, etc). Given the wear and tear of Costa Rica's climate, this will be a huge time and stress saver for our community!
How would most people get there? What is the nearest international airport? 
Costa Rica has two international airports, Juan Santamaria in the capital of San Jose (SJO) and Daniel Oduber Quirós in Liberia (LIR). Although domestic travel is possible from both airports, we would recommend travel to SJO for both efficiency and comfort. From San Jose, a short 20-minute domestic flight will bring you to the local airport in Tambor, which is only a 35-minute drive from the town of Santa Teresa. Taxi and shuttle services are readily available from Tambor. We would estimate that travel from LIR takes about 2.5 hours more.
Do the villas include furnishings? 
Furniture and electrical appliances are not included with the purchase of your villa, but we will happily furnish the house upon request. We offer furnishings in two different styles: Balinese or Modern. Please take into account that we estimate an extra cost of $15-25k for furnishings (depending on the size of the villa and the choice of furniture/appliances). The following is a sample, but stay tuned for our upcoming catalogue, where you will be able to explore our furnishing options.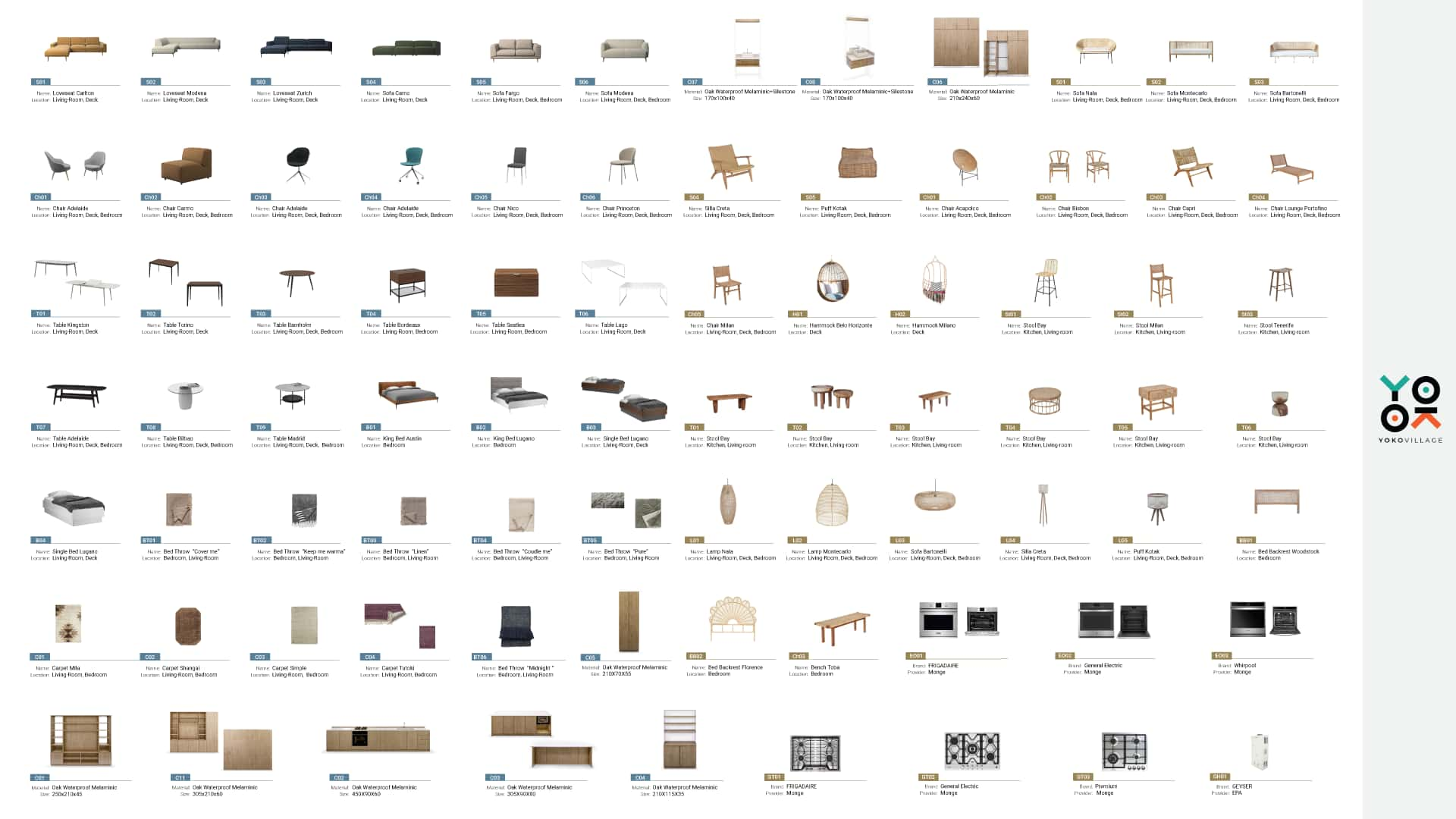 What is the approximate yearly cost of utility bills?
Of course, your utility costs will greatly depend on which appliances you choose to furnish your home with and how you use them. For example, having solar power will help to reduce costs, whereas frequent/extreme use of air conditioners will definitely increase costs. These are important considerations for the long-term decisions that you will make for your villa. Additionally, estimated HOA fees are $250-350/month and an average homeowner's bill for electricity and internet is around $200/month.
Are solar panels priced extra? 
Yes. While we highly encourage the use of solar panels for your villa, these are priced out at an additional cost. Be sure to consider the upfront cost of the investment in this technology vs the overall savings in electricity bills long-term, and stay tuned for an upcoming blog post where we will share the price points and options available.
What is the estimated completion date of Yoko Village?
At this time, our estimated completion of the entire village is within the year 2024.
Where do the financial estimations come from?
Using other villas of a similar style that were recently built by our construction partner, we were able to conduct a survey. Based on this survey, we created our financial estimates as accurately as possible.
Are pets and other animals allowed in Yoko Village? 
Yes, a maximum of 2 cats and 2 dogs are permitted at each villa within the village. The natural environment of Yoko Village is sensitive, and we aim to protect and respect it as much as we want you to protect and respect your fellow community members. Farm animals, of any kind, are not permitted. 
Is home insurance included in the HOA fees?
No, the homeowner is responsible for any insurance on their property. Be sure to check out our upcoming blog post about everything you need to know regarding insurance.
Does purchasing a villa qualify me and my family for residency?
Yes, your investment of more than $200,000 qualifies you, your spouse, and any dependents under the age of 18 to apply for residency in Costa Rica. For more information on immigration, check out our recent blog article here.
Will there be fiber optic internet available in the village?
Yes, fiber optic internet will be the primary source of internet. To ensure that being connected is never an issue, there will also be two backup sources: microwave internet (American Data) and satellite internet (VSAT). 
Can I change the exterior of my villa after I take possession?
Any and all alterations to the exterior of the villa must be approved by management. We intended to maintain a uniform look throughout the village and to have the houses blend into the surrounding natural beauty. We will not approve any changes that will obscure view lines or create uncomfortable situations between neighbors. That being said, we do encourage our members to make their dreams come true and, if the request is within the community aesthetic and within the condominium laws, then we will be happy to work with you to make the change happen.
Do I need a Costa Rican bank account to collect rental income?
No, rental income may be deposited to any bank account worldwide.
Do I need to pay taxes on rental property income?
Generally, yes, you do need to pay taxes. The specifics will depend on where you receive the funds and the corresponding income tax laws of that country or jurisdiction. Here in Costa Rica, there is a 13% sales tax on rental income. We would be happy to connect you to a certified Costa Rican tax advisor if you would like a free consultation.
Are the payments held in trust until the villa is delivered?
Your initial deposit is used to secure your lot and is not held in trust. Payments 1-4 of the payment structure are held in escrow and are released according to the construction development.
Can I see the furniture options?
Stay tuned, as we will share soon!
Are appliances (stove, fridge, laundry) included in the price? 
No, appliances are not included in the price of the villa. However, if desired, the Yoko team would be happy to help you with the selection and installation process.
Will there be dining options in Yoko Village?
We are planning to have a communal kitchen in the co-living area of Yoko Village. We also have plans to open an Indian restaurant.
Do you offer storage for personal items that I want to leave at Yoko Village?
Yes, there will be storage facilities available in the village for homeowners to use while they are away and renting their villas.
*Note that all information above is regarding Yoko Village's first project in Santa Teresa.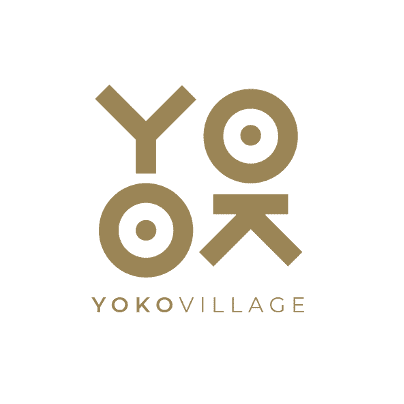 Follow our events on our Facebook and Instagram pages to stay up to date on what we are doing in the community.
As always, reach out to us if you have any questions or want to schedule a call with us. Stay tuned for more exciting developments happening at Yoko Village!