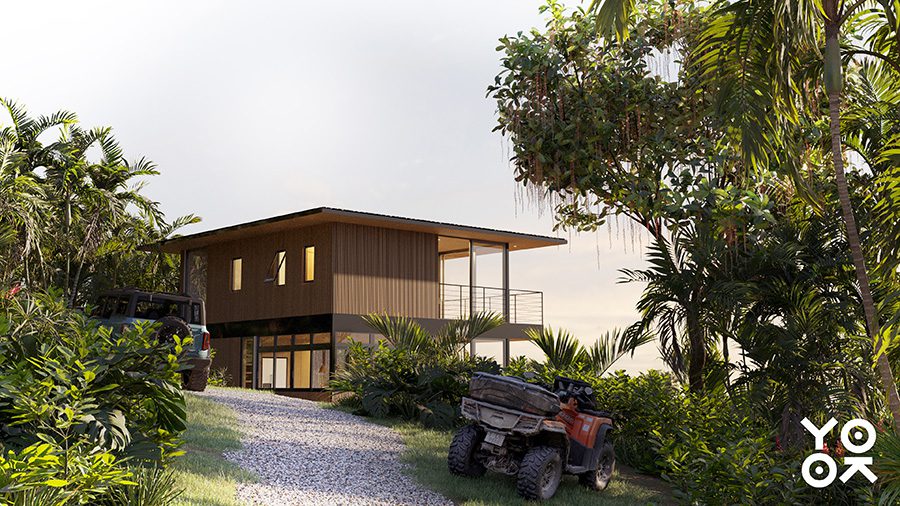 As Yoko projects continue to progress, we continue to update our F.A.Q. Below you will find the latest section. We've endeavored to anticipate, and answer as many of your questions as possible.
If you have any other questions or wish to speak to a member of our team you can schedule a call here.
GENERAL
Where are you located?
We are located in the village of Santa Teresa in the Nicoya Peninsula, Costa Rica. Click here for a pin on Google Maps to see Yoko North location.
Santa Teresa is situated in one of the world´s 5 blue zones with a community of global citizens who enjoy a laid back, bohemian lifestyle filled with  sunshine, yoga, surfing and a lively nightlife with excellent cuisine.  
Can I come and visit the community?
We would love for you to come and see what we are doing and share our enthusiasm for our way of life. To schedule a site visit please schedule a Zoom call with a member of our team.
 Any time you come down here you are gifting yourself with sun and fun. Contact us today and ask for personalized instruction on how to to get here, depending where you're coming from.
What is the typical climate in Costa Rica?
Costa Rica is classified as a tropical country because of its proximity to the equator. The seasons are more or less divided into two: Dry and Green.  During the dry season, the skies are clear, the sun is shining bright and we seldom have rain. During the green season you get more rain but still plenty of sunshine. There is consistently about 12 hours of sunlight per day for the entire year. We like to say that it's always hot here but from December till April it's warm and dry and from May till November it warm and humid.
I do not speak Spanish, will I be ok to communicate?
Yes! Everyone in touristic areas in Costa Rica speak English. While the official language is Spanish, here in Santa Teresa everyone speak English, and there are no shortages of English speaking professionals, such as lawyers, doctors and accountants, restaurants, pharmacies, etc 
What currencies are accepted?
The official currency is Colones, but most of the businesses here receive US dollars and accept major credit cards. 
Will I be close to the beach?
Yes. There are many beautiful beaches in Santa Teresa and the surrounding area, almost all of them with 5 – 10 minutes driving distance. 
OWNERSHIP
Do I get a title for my villa?
Yes! 
Who owns the property?
You have 100% ownership of the property you purchase. The communal spaces are owned by Yoko Village.
How big are the Lots. 
All lots are 1000 square meters and some can vary to 2000 or even 5000 sqaure meteres.
Can I subdivide my property?
Depending on the property and the size of your lot you can create an LLC and subdivide it. At Yoko North you are not allowed to subdive your lot.  If you like to get a bigger piece of land and subdivide it you can check out our Slow Living Venture (www.slowlivingventures.com).
What are the estimated monthly HOA fees?
For 2BR $250. For 3BR $350 and 4BR $400. The HOA fees include security, landscaping, and general maintenance of Yoko Village, like running the communal services i.e. shared workspace, garden, roads. 
What other monthly fees may apply?
General maintenance of your house after the wet season, dry season, impact of salt water on the materials etc. The maintenance costs are equal to the HOA fees structure.For 2BR $250. For 3BR $350 and 4BR $400 per month for the maintenance of your home. Including a handyman available for any unexpected issues. The costs is charged monthly and is optional. It is mostly used for units that are constantly rented to 3rd parties.
Is there a board or organization that runs the community?
There is no community board. There is an in-house management team looking after all aspects of the community. They will be based on the community campus and their job will be to manage all of the community's business affairs as well as manage properties for owners who wish to use their villas for additional rental income. You will have ownership of your house and what you do in your house is your prerogative. We will have some general rules for co-living in harmony in the community.
What are the vocational rental management fees?
If you want to create passive income on your property or wish to rent out the villa when you are not using it, Yoko Village will manage the property. To have a successful rental business there are a lot of criteria that need to be met and typically that is very time-consuming. YokoVillage will therefore  take responsibility for the whole process of advertising, cleaning, renting, checking in and out guests, providing oversight with reports for a 20% fee of the booking price. We are proficient in online rental services such as Airbnb, booking.com and VRBO.  
When can I sell the property?
At any time. 
Can I buy a ready-made home?
Currently, we are selling houses by order only. 
Do I need to have residency status in order to own a home? 
No. Anyone can buy and own and home in Costa Rica. 
Costa Rican law permits you to apply for residency after you have spent $150,000 or more on any property. You do not have to have a residency to enter into the country, however border agents typically give a tourist a 3-month visitor stamp. If you apply for residency the process is relatively easy and inexpensive. We created an article about immigration to Costa Rica here.
LEGAL
Is the developer the legal owner of the land designated for Yoko Village?
Yes. The developer has secured the land on which Yoko Village is being built. 
Is the land that I'm buying free of any debts, claims or litigation?
Yes. Yoko Village has done all due diligence and has gone through all the legal processes to acquire the land.
Are all taxes paid for the property I'm buying or being part of?
Yes. 
How long would it take to register the property once I sign the agreement?
All land/title transfers are done with lawyers in Costa Rica. Their land registry system is extremely efficient and well organized. After signing, you will have a contract in hand and a copy of that title is electronically and physically sent to the municipality to be officiated.
At what point can I still back out of the deal?
Once you have signed the contract and transferred funds over to us, we consider the deal closed. At that point, you are committed to seeing the project through to completion. 
Am I buying directly from Yoko Village?
Yes.
TRAVEL
What are the closest airports to Santa Teresa?
Costa Rica has two international airports. The first is San Jose International Airport (Juan Santa Maria, SJO) and is located in the capital of San Jose. The other international airport is Liberia International Airport located in Liberia. Depending on where you are flying from, each airport has different direct flights into the country. From there you can either take a 20-minute domestic flight to Santa Teresa's nearest airport Tambor which is a 30-minute drive from the town (or a chartered flight to  Manzanillo which is also 30 minutes from the town). 
How do I get to Santa Teresa?
From San Jose you take a 25-minute domestic flight on Sansa Air or Green Airways  and then there are taxis (30 min) from the local airport to the village. It's better to fly to San Jose and not to Liberia is you're planing to use a domestic flight. Please coordinate your international flights to arrive before 2pm so that you don't need to spend the night in San Jose and you can book your domestic flight to be more efficient. It takes about 1 hour from the moment you land to the  moment you arrive at the domestic airport. There is a short 2 minute walk from San Jose International airports to the domestic terminal.
How long is the flight from NYC/LA/ Europe?
New York under 5 hours Los Angeles 6 hours Europe 10 Hours 
Do I need a vaccination?
Costa Rica does not require visitors to have a Covid-19 test, however due to the pandemic they are requiring visitors to have travel insurance. 
I would like to visit the property, is that possible?
You can visit anytime. Please confirm 24 hours minimum your site visit directly with Jean Sebastian on his WhatsApp number +50689885394 (Not on Weekends or after 5 pm). Our business and visit hours are strictly Monday to Friday, from 9 to 5.
ABOUT YOKO VILLAGE
What is Yoko Village?
Yoko Village is a company founded in Santa Teresa in 2020 after its founder and CEO Liran Rosenfeld saw a shifting mood for the digital nomad to be able to work from beautiful destinations. As he himself had done the same thing, Liran embraced the opportunity to enable other like-minded individuals to live the dream of working and living in paradise. Liran founded Yoko Village with the concept of a sustainable co-working community. You can learn more about Yoko Company and its team at www.yokocompany.com
Where are you based?
Our offices are based in Santa Teresa. Our entire team lives here.
What is the experience that Yoko Team have in the area?
Yoko is comprised of a dream-team of industry experts who between them have over 50 years experience working in the region. We invite you to check out our blogpost on their background and the process here: https://yokovillage.com/the-yoko-village-dream-team/ 
What do you hope to accomplish at Yoko Village?
At Yoko Village our mission is to create eco-co-working communities that nurture your life as much as your life's work. Our Yoko community will enjoy sustainable living in one of Costa Rica's most coveted destinations, with all the amenities and facilities necessary to maintain a healthy, well-balanced, co-working lifestyle. Whether you want to relocate, have a beautiful vacation home, or are just looking to create a reliable passive income, our team will work with you to make your dreams come true.
What are the benefits of living in Yoko Village?
Design & Security: Houses in Yoko Village are beautifully designed, eco-friendly, weather resistant, and built to order, from the ground up. Our  exclusive amenities include a gym, a large co-working space, a communal restaurant, and communal garden.The property will be gated with 24hr security service .
Location: Yoko Village is in one of the most highly sought-after locations on the peninsula. Nestled in the hills of Santa Teresa, you will be minutes away from the beach, surf breaks and beautiful sunsets. You will also have access to restaurants, shopping and a lively nightlife. 
Eco-friendly and Sustainable Living: Yoko works with an in-house team of industry experts to ensure minimal disturbance to the land and has an active reforestation program. With Yoko you do not have to sacrifice your ethics for luxury, or vice-versa. The best of two worlds is possible.
Investment Value: Yoko is a great investment for the future and the present. Property values will appreciate as the community's roots grow deeper and the town currently has a thriving rental income/airbnb element that will surely only continue to grow.
Your Neighbors: Our community attracts like-minded people, who maintain a healthy lifestyle and an adventurous spirit.
If I'm not 100% satisfied with the construction at the end of the build what do I do?
Here at Yoko Village, we are committed  to developing  a well-constructed and executed community project. The contract itself is very detailed as to what you will be receiving as far as finishes, sizes, construction materials, etc.). If you decide to sell the house at some point, our team will help you with that process as well. 
That being said, we offer a 1-year warranty to take care of any occult vices or apparent vices in the construction. This is a warranty for things that were not properly installed. Also, by contract law, the engineer or architect that signs the documents is liable for 10 years for any structural damage to the building. We'll always be there to assist you to sell your home in case you don't like it.
Is Yoko Village a family-friendly space?
Yes! 
Yoko is for everyone. We have designed our community with facilities that accommodate families, couples, groups and individuals. Our hope is that our community will be as diverse as the beautiful nature they´ve chosen to live in. 
Are you the only co-working community in Santa Teresa?
Yes! At this time Yoko is the only eco-living community in the area that is providing these amenities and facilities in Santa Teresa.
There are of course a number of gated residential communities in Santa Teresa, but none have the defined elevated coworking eco-community mission statement shared by the Yoko team. We are building something beautifully unique here and we hope that it inspires others to follow suit. 
Are you working on any other projects?
Yes, please explore www.yokocompany.com to explore all our projects. 
What if I have more questions?
Contact us!! info@yokovillage.com. We are here to give you all the information you need.
RENTAL INCOME and MANAGEMENT FEES
What monthly income do you foresee on a rented villa?
Using available data on market rates and occupancy rates, we project that the average return on investment is between 10%-15%. Of course, this can vary depending on the season, the year, the type of view your home will have and type of rental you offer, long term vs. short term.
What do I need to know about management fees and services like Airbnb and VRBO?
There is a management fee of 20%, there is an additional fees for the booking platforms which are between 15%-20%. There are also direct bookings from Yoko Village for free. This fee covers management of all rental platforms (Airbnb, Vrbo,Luxury Retreats etc), advertising, cleaning, maintenance, guest management, and all other services that are necessary for running a profitable rental business. With Yoko managing your short term rentals, you can rest easy that your property is well managed and protected.
FINANCING
Is it possible to get a mortgage for part of the investment?
Yoko does not offer in-house mortgage options, however there are options for obtaining a mortgage through public or private lending institutions. 
What are the financing options?
For the build: We require 50% of the construction up front. The other 50% we offer financing of 7% interest rate for 1 year and 11% for 2 years.
What is the payment structure for construction?
$25,000 deposit to secure the construction price.

The

1st equivalent to 25% when plans and permits have been presented.

2nd payment equivalent to 25% when the general base of the home has been completed.

3rd payment equivalent to 25% when the concrete floors and electric and sewage installations are finished.

4th payment is equivalent to 25% when the house is built and finished.
What are the costs, aside from maintenance fees, that I am responsible for once I take possession?
You are responsible for gas, electricity, cable/internet and taxes and vary These prices based upon your consumption. Below is the average monthly costs of the utilities:
When do I start making payments on my house?
A $25,000 deposit to secure the financial phase. 
1st equivalent to 25% when plans and permits have been presented. 

2nd payment equivalent to 25% when the general base of the home has been completed. 

3rd payment equivalent to 25% when the concrete floors and electric and sewage installations are finished. 

4th payment is equivalent to 25% when the house is built and finished.   
What is the income tax rate in Costa Rica?
Property taxes in Costa Rica are very low. You will pay under a $1000 per year depending on the size of your villa.
What are and how much are closing costs?
Your closing costs will be 2.5% of the purchase price 
CONSTRUCTION, DEVELOPMENT and DESIGN
What is the price per square meter for construction in Santa Teresa?
The cost of construction in Santa Teresa varies between $1000-$2000 per square meter depending on the type of construction.
Will my villa look like the model in the brochure?
Yes, your villa will look like the photos rendered in the brochure but will be unique in its lot topography and fauna.
Will all homes in the community be built with a consistent aesthetic and design?
For Yoko North the answer is Yes. All homes in Yoko Village will be designed and built by the same team and therefore have some uniformity to the community. At Yoko South you can choose with who you build and what you're building.
How big are the villas?
Please review the following link where we advertise sizes of villas in detail.
Do all villas come with a pool?
Yes.
What is the average distance between villas?
25-40 meters distance and depending on the position and type of villa on your property.
What materials do you use for construction?
Concrete base. Metal structure and sheet rock panels – Concrete panels. We also use lots of wood and glass. All materials are supplied locally and all materials are ethically sourced materials.
Do the villas come furnished ?
No. However, we have designed three different interior designs that you can choose from and at competitive prices. You can also design your own. 
What (if any) warranty do I get on the construction and appliances?
Our contractors provide a standard form guarantee of 1 year. 
Have all slope analysis, erosion checks, and safety measures been made already?
Yes, we have checked the land with various engineers and are taking all safety measures needed. 
When will construction begin on my house? 
As of today February 2022: 
Yoko North: Construction starts as soon as you buy your lot and will be completed within 8 months. 
Yoko South: After signing your contract and transferring funds, it will take about a year of legal, permitting, and planning, until the contractors will be permitted to commence construction. 
How fast can my house be built?
A typical time frame for building a 1-3 bedroom house is 6-8 months. 
Is there any risk of increased costs of building for the purchaser?
No they will not. One of the many advantages of a Yoko villa is the certainty that comes with your cost of construction. This is because  we commit to the costs in advance and under contract. 
AMENITIES/LIFESTYLE
Are there any facilities for kids inside of Yoko Village?
Yoko Village has designated recreational areas for outdoor playground facilities and potentially kindergarten/day care. 
What amenities are included in the annual fees?
Your annual fees cover your access to the communal office space, gym and the ollympic pool
Currently, YokoVillage is offering the communal office space, gym, and Olympic pool.
If I need medical assistance, what are my options?
There are three paramedic First-Aid centers in the Village that can respond quickly and efficiently. When there's an important medical emergency, an air ambulance service to hospitals in SJO and Liberia (20-minute flight) is available 24/7. For any other events, the closest clinic is in Cobano Village (25 min drive). There are also a variety of doctors, chiropractors, physiotherapists, dentists, pediatrician that lives today in Santa Teresa and will come to your home or you can visit their clinics in town. The are also has a variety of health specialist and chinese medicine professional in town. 
Are pets allowed?
Yes, pets are allowed, however, we have some restrictions as to how many and what kind of pets are allowed. There is a lot of sensitive nature around and we aim to protect and respect it as much as we want you to protect and respect your fellow community members. 
Is there a fast internet connection?
Yes, there is an excellent internet connection, and the speeds are up to par with any American House.
What are the school options in Santa Teresa?
Daycare:
Tia Meli – Owned by Costa Ricans, this place receives babies and toddlers up to 4 years old. They're a preference for short-term visitors as they have very flexible rates and they are still open during vacations and most holidays.
Pre-school:
Only Love – USD 300-350 / monthly rate + enrolment fee.

Hermosa Valley School – USD 300-350 / monthly rate + enrolment fee.
Schools:
Hermosa Valley School
Futuro Verde – International Validation system, located between Santa Teresa and Cobano.
Public School Santa Teresa – Located in central Santa Teresa.
Camps:
Surf Camps – for kids from 3 years old up, this camp lasts through all holiday school vacations.
Seasonal Camp – Every high season, a small group of local caregivers prepare a 2 to 3 week-long camp for kids between 3-12 years old.
Baby sitters
There are caregivers living here year-round, fluent in foreign languages: Italian, French, Hebrew, Spanish, and more.
The average rate for multilingual caregivers is between USD 15 to 20 / hour. For full-time caregivers (Spanish speaking only), rates can go from USD 3 / hour up.
What activities are available for my kids in Santa Teresa?
Surf Lessons:  personalized and group classes for kids are offered year-round.

Skate Parks: there are two skate parks open to the public, both offering year-round personalized and group classes
Tide pools: perfect for the little ones that are in early-stage of learning how to swim
Circus classes: Funky Monkey lodge offers lessons of silks, dance, and performance for kids from 6 up.
Personalized swimming lessons: from any age.
Private music lessons: various instruments, singing, and composition for all ages.
Yoga for kids: for all ages, as well as baby and mom, etc.
VISA/IMMIGRATION
Are there restrictions on travel to and from Costa Rica?
Costa Rica currently has no travel restriction and all borders are open. Due to Covid 19 situation, this can obviously change. They do require an Insurance policy that will cover you for all medical expenses if you do contract the virus while in Costa Rica. This can be obtained from any travel agent. 
Do I need a visa to come to Costa Rica?
You can reference this link to see if your country of origin requires a travel visa for its citizens to enter the country. US, Europeans and Canadians citizens do not need a travel visa. 
How hard is it to get a residence permit?
Any person over the age of 65 Is eligible to apply for a retirement visa. Any person owning property over $150,000 is also eligible for residency. The application process is fairly simple and inexpensive. We can recommend several lawyers for the process if needed.  We wrote an extensive fully detailed guide related to all visa/reservation requirements/options here: https://yokovillage.com/immigration-to-costa-rica/ – Read this article before consulting an attorney. 
Do you have any good lawyers you can recommend?
Yes.
If you are interested in becoming part of our Yoko community, or want to know about new exciting opportunities with Yoko Company schedule a Zoom call with our team.